You are here:

BSB [(trans,trans)-1-Bromo-2.5-bis-(3-hydroxyca...
BSB [(trans,trans)-1-Bromo-2.5-bis-(3-hydroxycarbonyl-4-hydroxy)styrylbenzene] - 5 mg
Cat.Number :

AS-88300

Manufacturer Ref. :
Availability :
BSB binds to a wide range of amyloid inclusions in situ. More importantly it is also used to label brain amyloids in live animals. BSB recognizes amyloid lesions, and has distinctive properties which allow the quantitative monitoring of the formation of amyloid fibrils assembled from the Ab peptide, a-synuclein and tau. It is a cell-permeable fluorescent probe that specifically binds to and labels intracellular b-amyloid aggregates both in vitro (Ki = 400 nM) and in vivo. It is also used as an antemortem diagnostic tool for animal models of Alzheimer's disease.
Specifications
Chemistry
CAS registry number
Molecular Formula
Molecular Mass/ Weight
Properties
Absorbance (nm)
Emission (nm)
Color
Quantity & Purity
Purity
Storage & stability
Form
Resuspension condition
Storage Conditions

-20°C Protected from Light

Activity
Application
Detection Method
Research Area
Sub-category Research Area
Usage
You may also be interested in the following product(s)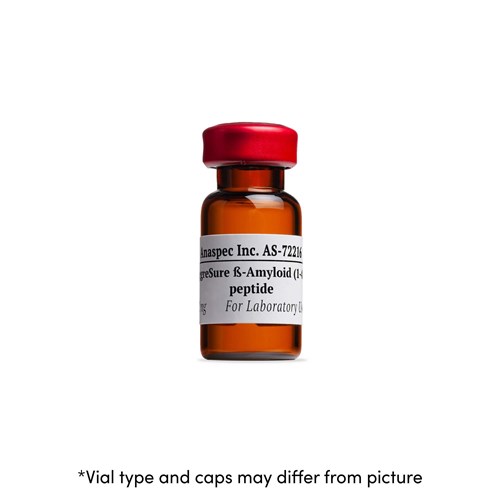 References
A comparison of amyloid fibrillogenesis using the novel fluorescent compound K114
J Neurochem . 2003 Sep 01 ; 86(6) 1359 | DOI : https://doi.org/10.1046/j.1471-4159.2003.01949.x
Radioiodinated styrylbenzene derivatives as potential SPECT imaging agents for amyloid plaque detection in alzheimer's disease
J Mol Neurosci . 2002 Aug 31 ; 19(1-2) 7 | DOI : 10.1007/s12031-002-0003-9