You are here:

SensoLyte® 520 Mouse Renin Assay Kit Fluorimetr...
SensoLyte® 520 Mouse Renin Assay Kit Fluorimetric - 1 kit
Cat.Number :

AS-72161

Manufacturer Ref. :
Availability :
Shipping conditions :

Ice fees will apply
Renin, a highly specific aspartyl protease, cleaves angiotensinogen, to yield angiotensin I. Angiotensin I is further converted into angiotensin II by ACE (Angiotensin Converting Enzyme). Angiotensin II constricts blood vessels leading to increased blood pressure. Discovery of new renin inhibitors for treatment of hypertension is a promising area of research.
The SensoLyte® 520 Mouse Renin Assay Kit provides a convenient assay for high throughput screening of renin inhibitors and for continuous assay of mouse renin activity using a 5-FAM/QXL™520 FRET peptide. In the FRET peptide the fluorescence of 5-FAM is quenched by QXL™520. Upon cleavage into two separate fragments by renin, the fluorescence of 5-FAM is recovered, and can be monitored at excitation/emission = 490/520 nm.
Specifications
Packaging
Kits components

Component A: Mouse renin substrate 5-FAM/QXL™520 FRET peptide: 50 µL Component B: 5-FAM, fluorescence reference standard: 100 µM, 10 µL Component C: Mouse Prorenin: 0.5 mg/mL, 20 µL Component D: Assay buffer: 25 mL Component E: Trypsin Activation buffer: 300 µL Component F: Trypsin Inhibitor: 10 mM, 20 µL Component G: Renin Inhibitor Ac-HPFV- (Sta)-LF-NH2: 1 mM, 10 µL

Chemistry
UniProt number
Properties
Absorbance (nm)
Emission (nm)
Storage & stability
Storage Conditions

Store component C at -80°C. Store all other components at -20°C. Component D can be stored at room temperature for convenience. Protect components A and B from light and moisture.

Activity
Application
Biomarker Target
Detection Method
Research Area
Sub-category Research Area
Usage
Source
Host
You may also be interested in the following product(s)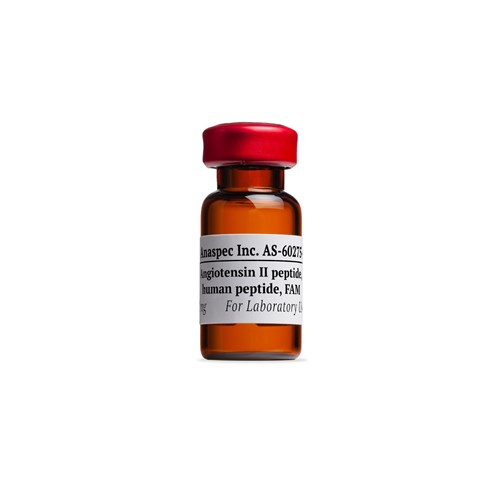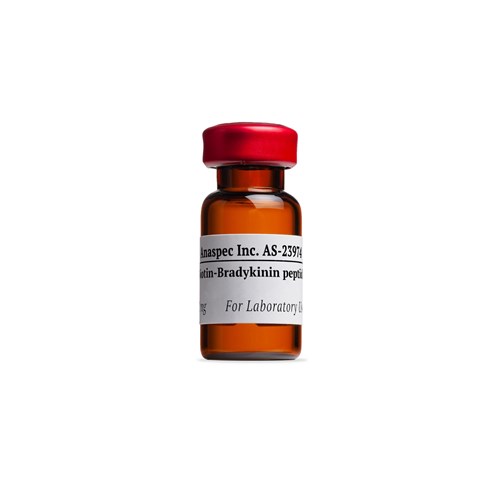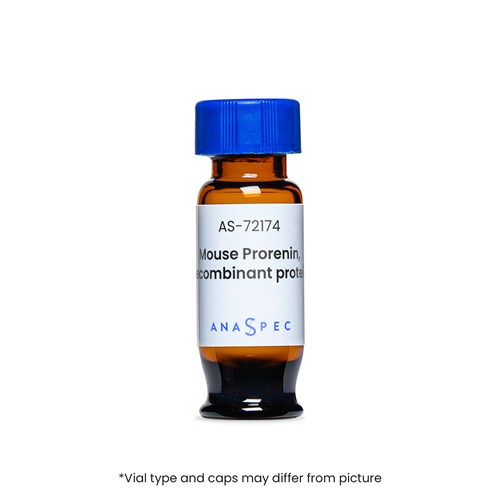 Citations
VDR Attenuates Acute Lung Injury by Blocking Ang-2-Tie-2 Pathway and Renin-Angiotensin System
Mol Endocrinol . 2013 Nov 06 ; 2116 27(12) | DOI : 10.1210/me.2013-1146
Primary aldosteronism and impaired natriuresis in mice underexpressing TGFβ1
Proc Natl Acad Sci U S A . 2013 Mar 15 ; 5600 110(14) | DOI : 10.1073/pnas.1302641110
Angiotensin II receptor blocker improves the lowered exercise capacity and impaired mitochondrial function of the skeletal muscle in type 2 diabetic mice
J Appl Physiol  . 2013 Jan 17 ; 114(7) 844 | DOI : 10.1152/japplphysiol.00053.2012
Single atom substitution in mouse protein kinase G eliminates oxidant sensing to cause hypertension
Nat Med . 2020 Mar 18 ; 18(2) 286 | DOI : 10.1038/nm.2603
Influence of angiotensin II type 1 receptor-associated protein on prenatal development and adult hypertension after maternal dietary protein restriction during pregnancy
J Am Soc Hypertens . 2012 Aug 28 ; 6(5) 324 | DOI : 10.1016/j.jash.2012.07.001
Vitamin D receptor signaling in podocytes protects against diabetic nephropathy
J Am Soc Nephrol . 2012 Nov 02 ; 23(12) 1977 | DOI : 10.1681/ASN.2012040383
Viral transduction of renin rapidly establishes persistent hypertension in diverse murine strains.
Am J Physiol Regul Integr Comp Physiol . 2015 Jun 24 ; 309(5) R467 | DOI : 10.1152/ajpregu.00106.2015
High glucose induces trafficking of prorenin receptor and stimulates profibrotic factors in the collecting duct
Scientific Reports . 2021 Jul 05 ; 11 13815 | DOI : https://doi.org/10.1038/s41598-021-93296-4
Beta-Arrestin1 Prevents Preeclampsia by Downregulation of Mechanosensitive AT1-B2 Receptor Heteromers
Cell . 2019 Jan 10 ; 176(1-2) 318 | DOI : https://doi.org/10.1016/j.cell.2018.10.050