You are here:

ADHP [10-Acetyl-3,7-dihydroxyphenoxazine] - 25 mg
ADHP [10-Acetyl-3,7-dihydroxyphenoxazine] - 25 mg
Cat.Number :

AS-85500

Manufacturer Ref. :
Availability :
10-Acetyl-3,7-dihydroxyphenoxazine (ADHP), also called Amplex® Red and Ampliflu™ Red, is not only a sensitive and stable fluorogenic substrate for HRP but also an ultrasensitive probe for H2O2. In the presence of HRP and H2O2, ADHP generates highly fluorescent resorufin that has maximum absorption of 571 nm and maximum emission of 585 nm. Unlike other HRP substrates such as dihydrofluoresceins and dihydrorhodamines, the air-oxidation of ADHP is minimal. So far ADHP has been known as the most sensitive and stable fluorogenic probe for detecting HRP and H2O2. ADHP has been widely used to detect HRP in many immunoassays. On the other hand, Zhou, et al. have demonstrated that ADHP can be used to detect trace amount of H2O2. The ADHP-based H2O2 detection is at least one order of magnitude more sensitive than the commonly used scopoletin assay for H2O2. Because H2O2 is produced in many enzymatic redox reactions, ADHP can be used in coupled enzymatic reactions to detect the activity of many oxidases and/or related enzymes/substrates or cofactors such as glucose, acetylcholine and cholesterol, L-glutamate, amino acids, etc. We offer the best quality of ADHP with the most competitive price. The reagent can be purchased in a single 25 mg vial or can be custom-packaged to meet your special requirements.
Specifications
Chemistry
CAS registry number
Molecular Formula
Molecular Mass/ Weight
Properties
Absorbance (nm)
Emission (nm)
Color
Quantity & Purity
Purity
Storage & stability
Form
Resuspension condition
Storage Conditions

-20°C Protected from Light

Activity
Application
Biomarker Target
Detection Method
Research Area
Sub-category Research Area
Usage
You may also be interested in the following product(s)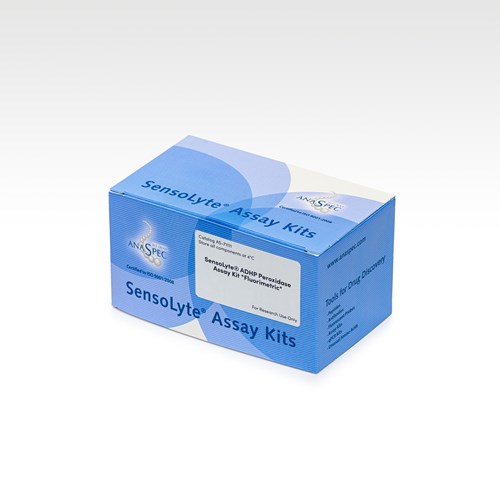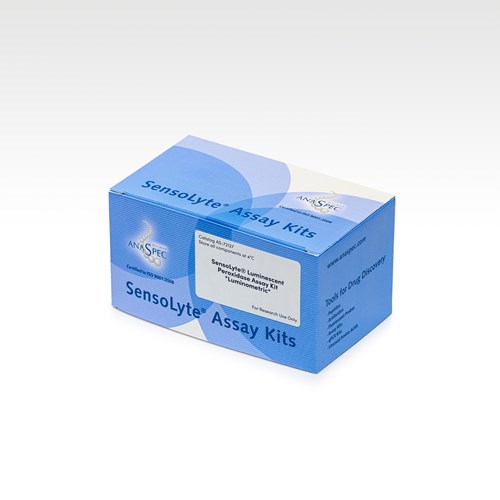 Citations
What are the sources of hydrogen peroxide production by heart mitochondria?
Biochim Biophys Acta . 2017 Feb 10 ; 1797(6-7) 939 | DOI : 10.1016/j.bbabio.2010.02.013
On-chip microfluidic transport and bio/chemical sensing based on electrochemical bubble formation
Sensors and Actuators B: Chemical . 2007 May 21 ; 123(2) 1153 | DOI : 10.1016/j.snb.2006.10.028
Determination of the activities of glutamic oxaloacetic transaminase and glutamic pyruvic transaminase in a microfluidic system
Biosensors & Bioelectronics . 2007 Mar 01 ; 22(7) 1330 | DOI : 10.1016/j.bios.2006.06.007
Microprocessing of Liquid Plugs for Bio/chemical Analyses.
Anal Chem . 2008 Jun 16 ; 80(16) 6206 | DOI : 10.1021/ac800492v
Autonomous Microfluidic Control by Chemically Actuated Micropumps and Its Application to Chemical Analyses.
Anal Chem . 2010 Jul 29 ; 82(16) 6870 | DOI : https://doi.org/10.1021/ac1009657
References
A Fluorescence-Based, High-Throughput Sphingomyelin Assay for the Analysis of Niemann–Pick Disease and Other Disorders of Sphingomyelin Metabolism
Anal Biochem . 2002 Jun 01 ; 306(1) 115 | DOI : https://doi.org/10.1006/abio.2002.5686
A fluorometric assay for detection of lysyl oxidase enzyme activity in biological samples
Anal Biochem . 2000 Jan 15 ; 300(2) 245 | DOI : https://doi.org/10.1006/abio.2001.5464
AH. Palamakumbura
PC. Trackman
A One-Step Fluorometric Method for the Continuous Measurement of Monoamine Oxidase Activity
Anal Biochem . 1997 Nov 15 ; 253(2) 169 | DOI : https://doi.org/10.1006/abio.1997.2392
M. Zhou
N. Panchuk-Voloshina
A Stable Nonfluorescent Derivative of Resorufin for the Fluorometric Determination of Trace Hydrogen Peroxide: Applications in Detecting the Activity of Phagocyte NADPH Oxidase and Other Oxidases
Anal Biochem . 1997 Nov 15 ; 253(2) 162 | DOI : https://doi.org/10.1006/abio.1997.2391
ΔΨm-Dependent and -independent production of reactive oxygen species by rat brain mitochondria
J Neurochem . 2001 Oct 01 ; 79(2) 266 | DOI : https://doi.org/10.1046/j.1471-4159.2001.00548.x
TV. Votyakova
IJ. Reynolds
Fluorometric method for the enzymatic determination of cholesterol
J Biochem Biophys Methods . 1999 Jan 13 ; 38(1) 43 | DOI : https://doi.org/10.1016/S0165-022X(98)00036-0
Hydrogen peroxide formation during iron deposition in horse spleen ferritin using O2 as an oxidant
Biochemistry . 2001 Feb 23 ; 40(11) 3340 | DOI : https://doi.org/10.1021/bi001981v
Quantitative relationship between inhibition of respiratory complexes and formation of reactive oxygen species in isolated nerve terminals
J Neurochem . 2003 Jan 01 ; 84(1) 112 | DOI : https://doi.org/10.1046/j.1471-4159.2003.01513.x