You are here:

AnaTag™ HiLyte™ Fluor 488 Microscale Protein La...
AnaTag™ HiLyte™ Fluor 488 Microscale Protein Labeling Kit - 1 kit
Cat.Number :

AS-72048-

Manufacturer Ref. :
Availability :
Shipping conditions :

Ice fees will apply
HiLyte™ Fluor 488, SE is an excellent amine-reactive fluorescent labeling dye for generating protein conjugates. The spectrum of HiLyte™ Fluor 488 is similar to fluorescein (FITC), resulting in an optimal match to filters designed for fluorescein. HiLyte™ Fluor 488 is more photostable than FITC, providing researchers with additional time for capturing image. Its fluorescence can be detected at the emission wavelength of 523±10 nm when excited at 499±10 nm. The HiLyte™ Fluor 488-protein conjugates are very stable and suitable for immunofluorescent staining, in situ hybridization, flow cytometry and other biological applications. The kit has all essential components for performing the conjugation reaction and for purifying the HiLyte™ Fluor 488-protein conjugate. The entire process takes only half an hour. The kit is able to perform three conjugation reactions with each reaction labeling up to 200 µg IgG. Kit Size: 3 labeling reactions (3 x 200 µg protein).

Note: AnaTag kits are not intended for peptide labeling.
Specifications
Packaging
Kits components

Component A: HiLyte™ Fluor 488 SE Amino-reactive dye: 3 vials Component B: Reaction buffer for pH adjustment of the conjugation reaction: 0.5 mL Component C: Spin column to purify dye-protein conjugate: 3 pre-packed columns Component D: DMSO solvent for preparing dye stock solution: 150 µL Component E: Elution buffer for eluting dye-protein conjugate: 20 mL Component F: Wash tube to hold buffer for Spin column: 3 tubes Component G: Collect tube to collect dye-protein conjugate: 3 tubes

Properties
Absorbance (nm)
Emission (nm)
Storage & stability
Storage Conditions

Store component A at -20°C. Store all other components at 4°C. Protect component A from light and moisture.

Activity
Application
Detection Method
Research Area
Sub-category Research Area
Usage
You may also be interested in the following product(s)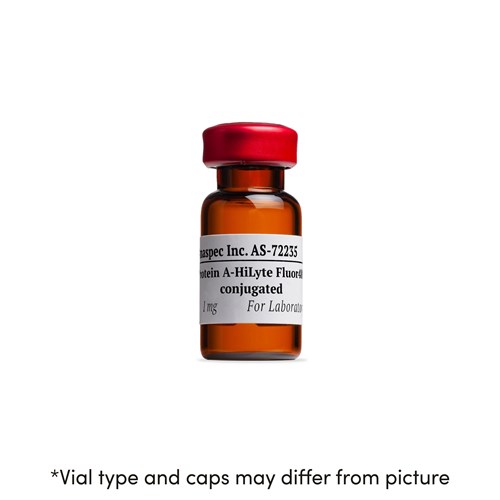 Citations
Cytotoxic CD8α+ leucocytes have heterogeneous features in antigen recognition and class I MHC restriction in grouper.
Fish Shellfish Immuno . . 2011 Apr 02 ; 30(6) 1283 | DOI : 10.1016/j.fsi.2011.03.018.