You are here:

hBD-3, b-Defensin-3, human - 0.1 mg
hBD-3, b-Defensin-3, human - 0.1 mg
Cat.Number :

AS-60741

Manufacturer Ref. :
Availability :
Defensins are small cysteine-rich cationic proteins found in both vertebrates and invertebrates. They have host defense properties, and are active against bacteria, fungi and many viruses. Beta-defensins are the most widely distributed, being secreted by leukocytes and epithelial cells of many kinds.
This is a 5.1kDa 45-amino acid antimicrobial peptide called beta-Defensin-3 (hBD-3) having a beta sheet with three intramolecular disulfide bonds. It is expressed in high levels in keratinocytes and tonsilar tissue while expressed low in epithelia of the respiratory, gastrointestinal and genito-urinary tracts. Factors that induce its expression include TNF-alpha, IL-1beta and bacteria such as P. aeruginosa and S. aureus. hBD-3 is also potentially induced after exposure to IFN-gamma. In contrast to hBD-1, -2 and -4, hBD-3 demonstrates a salt-insensitive antimicrobial activity towards several pathogenic microorganisms at physiologic salt concentrations. This makes hBD-3 uniquely and particularly relevant in diseases where other hBDs show inactivity. The ability of hBD-3 to elicit its antimicrobial activity more effectively at the concentrations lower that those of hBD-1 and hBD-2 has been attributed to its amphipathic dimer structure and the increased positive surface charge (+9), compared to hBD-1 (+4) and hBD-2 (+6). hBD-3 has been shown to induce cytokine production from human keratinocytes and stimulates monocyte migration.
Specifications
Chemistry
Sequence one letter code

GIINTLQKYYCRVRGGRCAVLSCLPKEEQIGKCSTRGRKCCRRKK (Disulfide bridge: 11-40, 18-33, 23-41)

Sequence three letter code

H-Gly-Ile-Ile-Asn-Thr-Leu-Gln-Lys-Tyr-Tyr-Cys-Arg-Val-Arg-Gly-Gly-Arg-Cys-Ala-Val-Leu-Ser-Cys-Leu-Pro-Lys-Glu-Glu-Gln-Ile-Gly-Lys-Cys-Ser-Thr-Arg-Gly-Arg-Lys-Cys-Cys-Arg-Arg-Lys-Lys -OH (Disulfide bridge: 11-40, 18-33, 23-41)

Molecular Formula
Molecular Mass/ Weight
Modification
Conjugation
Quantity & Purity
Purity
Storage & stability
Form
Storage Conditions
Activity
Biomarker Target
Research Area
Sub-category Research Area
Usage
Source
Source / Species
You may also be interested in the following product(s)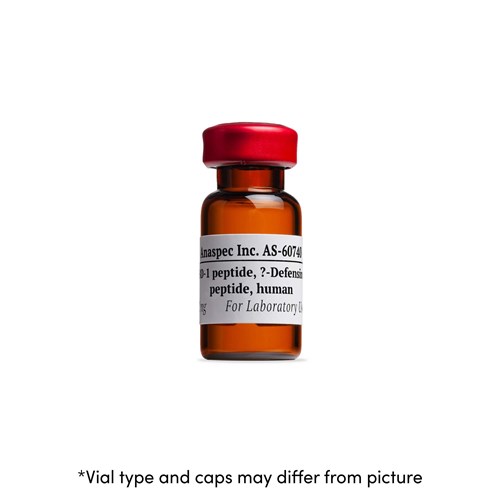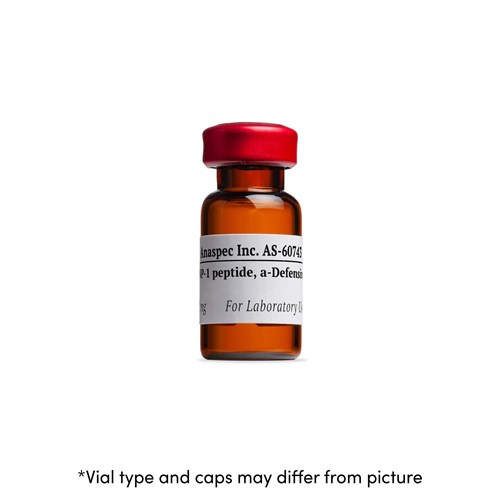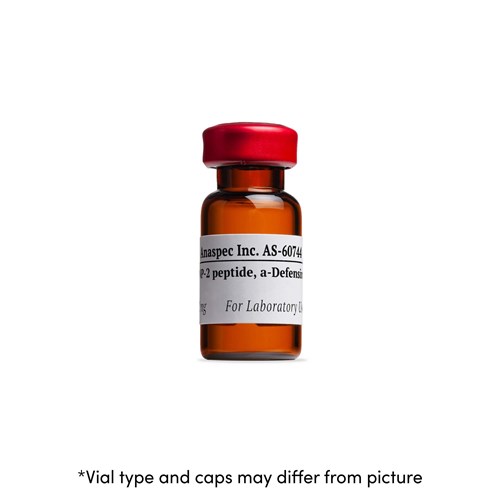 Citations
Masking of β(1-3)-Glucan in the Cell Wall of Candida albicans from Detection by Innate Immune Cells Depends on Phosphatidylserine.
Infect Immun . 2014 Aug 11 ; 82(10) 4405 | DOI : 10.1128/IAI.01612-14.
References
Antimicrobial Peptide Microbicides Targeting HIV
Protein Peptide Lett . 2005 Jan 01 ; 12(1) 41 | DOI : https://doi.org/10.2174/0929866053406101
The human beta-defensin-3, an antibacterial peptide with multiple biological functions
Biochim. Biophys. Acta . 2006 Sep 01 ; 1758(9) 1499 | DOI : https://doi.org/10.1016/j.bbamem.2006.07.007
Protective roles of the skin against infection: Implication of naturally occurring human antimicrobial agents β-defensins, cathelicidin LL-37 and lysozyme
J Derm Sci . 2005 Dec 01 ; 40(3) 157