You are here:

HIV Protease FRET Substrate I - 1 mg
HIV Protease FRET Substrate I - 1 mg
Cat.Number :

AS-22992

Manufacturer Ref. :
Availability :
DABCYL-GABA-Ser-Gln-Asn-Tyr-Pro-Ile-Val-Gln-EDANS is also called HIV protease substrate I in some literature. It is widely used for the continuous assay for HIV protease activity. The 11-kD protease (PR) encoded by the human immunodeficiency virus 1 (HIV-1) is essential for the correct processing of viral polyproteins and the maturation of infectious virus, and is therefore a target for the design of selective acquired immunodeficiency syndrome (AIDS) therapeutics. The FRET-based fluorogenic substrate is derived from a natural processing site for HIV-1 PR. Incubation of recombinant HIV-1 PR with the fluorogenic substrate resulted in specific cleavage at the Tyr-Pro bond and a time-dependent increase in fluorescence intensity that is linearly related to the extent of substrate hydrolysis. The fluorescence quantum yields of the HIV-1 PR substrate in the FRET assay increased by 40.0- and 34.4-fold, respectively, per mole of substrate cleaved. Because of its simplicity and precision in the determination of reaction rates required for kinetic analysis, this substrate offers many advantages over the commonly used HPLC or electrophoresis-based assays for peptide substrate hydrolysis by retroviral PRs. Abs/Em = 340nm/490nm.
Specifications
Chemistry
Sequence one letter code

DABCYL-GABA-SQNYPIVQ-EDANS

Sequence three letter code

DABCYL-GABA-Ser-Gln-Asn-Tyr-Pro-Ile-Val-Gln-EDANS

CAS registry number
Molecular Formula
Molecular Mass/ Weight
Properties
Absorbance (nm)
Emission (nm)
Modification
Conjugation type
Modification Name
Conjugation
Quantity & Purity
Purity
Storage & stability
Form
Storage Conditions

- 20 °C Protected from light

Activity
Application
Biomarker Target
Detection Method
Research Area
Sub-category Research Area
Usage
Source
Source / Species
You may also be interested in the following product(s)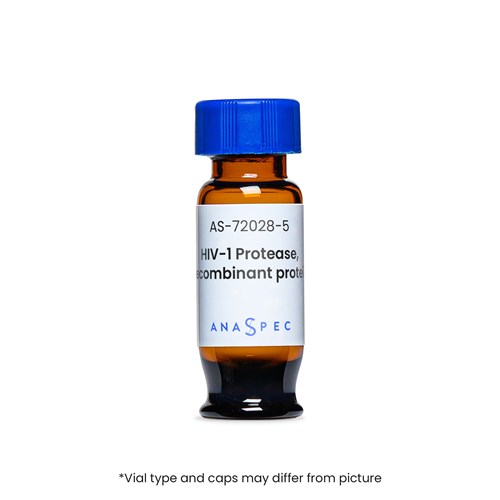 References
Sensitive, hydrosoluble, macromolecular fluorogenic substrates for human immunodeficiency virus 1 proteinase
Biochem J . 1993 May 01 ; 291 (Pt3) 869 | DOI : 10.1042/bj2910869.
Fluorescence-based continuous assay for the aspartyl protease of human immunodeficiency virus-1
FEBS Lett . 1990 Jan 22 ; 262 119 | DOI : 10.1016/0014-5793(90)80168-i