You are here:

HSV-gB2 (498-505) - 1 mg
HSV-gB2 (498-505) - 1 mg
Cat.Number :

AS-61708

Manufacturer Ref. :
Availability :
This is the immunodominant epitope gB-8p from herpes simplex virus (HSV) glycoprotein B (gB), amino acids 498 to 505.
Specifications
Chemistry
Sequence one letter code
Sequence three letter code

H-Ser-Ser-Ile-Glu-Phe-Ala-Arg-Leu-OH

Molecular Formula
Molecular Mass/ Weight
Modification
Conjugation
Quantity & Purity
Purity
Storage & stability
Form
Storage Conditions
Activity
Biomarker Target
Research Area
Sub-category Research Area
Usage
Source
Source / Species
You may also be interested in the following product(s)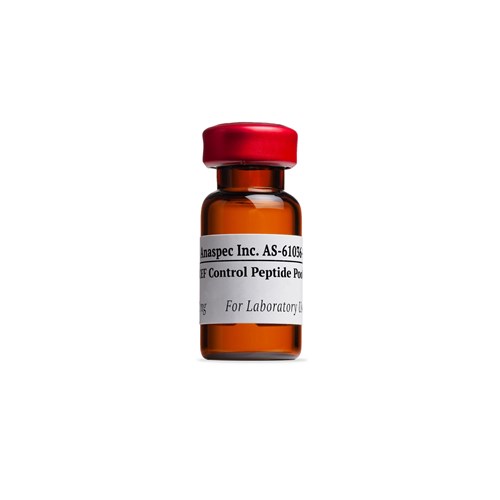 Citations
Memory CD8+ T cells require CD28 costimulation.
J Immunol . 2007 Nov 15 ; 179(10) 6494 | DOI : 10.4049/jimmunol.179.10.6494
References
Cytosolic Entry Controls CD8+-T-Cell Potency during Bacterial Infection
Infect Immun . 2020 Dec 18 ; 101 13832 | DOI : https://doi.org/10.1128/IAI.01088-06
Early Immunization Induces Persistent Tumor-Infiltrating CD8+ T Cells against an Immunodominant Epitope and Promotes Lifelong Control of Pancreatic Tumor Progression in SV40 Tumor Antigen Transgenic Mice
J Immunol . 2006 Sep 01 ; 177(5) 3089 | DOI : https://doi.org/10.4049/jimmunol.177.5.3089
Molecular, Cellular, and Antigen Requirements for Development of Age-Associated T Cell Clonal Expansions In Vivo
J Immunol . 2006 Jan 01 ; 176(1) 301 | DOI : https://doi.org/10.4049/jimmunol.176.1.301