You are here:

LL-37 fragment (18-37) - 1 mg
LL-37 fragment (18-37) - 1 mg
Cat.Number :

AS-63712

Manufacturer Ref. :
Availability :
This is fragment 18-37 of LL-37, it exhibits enhanced antimicrobial activity. Antimicrobial peptide LL-37, belonging to the cathelicidin family, is the first amphipathic alpha-helical peptide isolated from human. It plays an important role in the first line of defense (innate immunity) against local infection and systemic invasion of pathogens at sites of inflammation and wounds.
Specifications
Chemistry
Sequence one letter code
Sequence three letter code

Lys-Arg-Ile-Val-Gln-Arg-Ile-Lys-Asp-Phe-Leu-Arg-Asn-Leu-Val-Pro-Arg-Thr-Glu-Ser

CAS registry number
Molecular Formula
Molecular Mass/ Weight
Modification
Conjugation
Quantity & Purity
Purity
Storage & stability
Form
Storage Conditions
Activity
Biomarker Target
Research Area
Sub-category Research Area
Usage
Source
Source / Species
You may also be interested in the following product(s)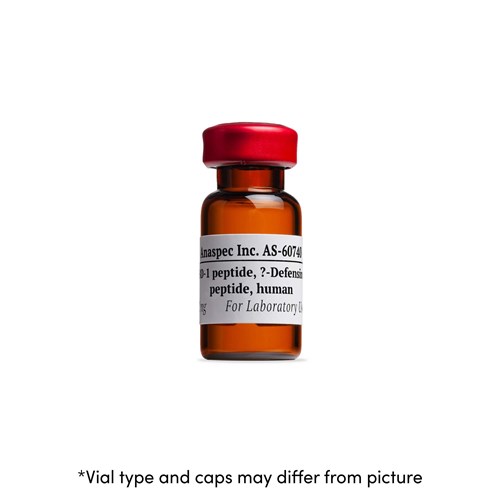 Citations
Decreased outer membrane permeability protects mycobacteria from killing by ubiquitin-derived peptides.
Mol Microbiol . 2009 Aug 06 ; 73(5) 844 | DOI : 10.1111/j.1365-2958.2009.06801.x.
Neutrophil extracellular Trap–associated protein activation of the NLRP3 inflammasome is lnhanced in lupus macrophages.
J Immunol . 2012 Dec 24 ; 190(3) 1217 | DOI : 10.4049/​jimmunol.1202388.
Clostridium difficile clinical isolates exhibit variable susceptibility and proteome alterations upon exposure to mammalian cationic antimicrobial peptides.
Anaerobe . 2012 Sep 24 ; 18(6) 614 | DOI : 10.1074/jbc.M110.206110
Hormonally active vitamin D3 (1α,25-Dihydroxycholecalciferol) triggers autophagy in human macrophages that inhibits HIV-1 infection.
JBC . 2011 Mar 30 ; 286(21) 18890 | DOI : 10.1074/jbc.M110.206110