You are here:

SensoLyte® 520 HCV Protease Assay Kit Fluorimet...
SensoLyte® 520 HCV Protease Assay Kit Fluorimetric - 1 kit
Cat.Number :

AS-71145

Manufacturer Ref. :
Availability :
Shipping conditions :

Ice fees will apply
The SensoLyte® 520 HCV Assay Kit uses a new FRET peptide substrate that incorporates 5-FAM (fluorophore) and QXL™ 520 (quencher) for a continuous measurement of enzyme activities. In the intact FRET peptide, the fluorescence of 5-FAM is quenched by QXL™ 520. Upon cleavage of the FRET peptide by HCV NS3/4a protease, the fluorescence of 5-FAM is recovered and can be continuously monitored at excitation/emission = 490 nm/520 nm. With superior fluorescence quantum yield and longer emission wavelength, this 5-FAM/QXL™ 520-based FRET peptide shows less interference from autofluorescence of test compounds and cellular components. This assay is ten times more sensitive than an EDANS/DABCYL based assay and can detect 0.1 pmole of HCV NS3/4a protease. The assays are performed in a convenient 96-well or 384-well microplate format.
Specifications
Packaging
Kits components

Component A: HCV NS3/4A protease substrate Ex/Em=490 nm/520 nm upon cleavage: 120 µL Component B: 5-FAM, fluorescence reference standard Ex/Em=490 nm/520 nm upon cleavage: 100 µM, 5 µL Component C: 2X Assay buffe:r 10 mL Component D: Stop solution: 10 mL Component E DTT: 1 M, 0.5 mL Component F: Pep4AK: 50 µL, 600 µM

Properties
Absorbance (nm)
Emission (nm)
Storage & stability
Storage Conditions

Store all components at -20°C. Components C and D can be stored at room temperature for convenience. Protect Components A and B from light.

Activity
Application
Biomarker Target
Detection Method
Detection Limit
Research Area
Sub-category Research Area
Usage
You may also be interested in the following product(s)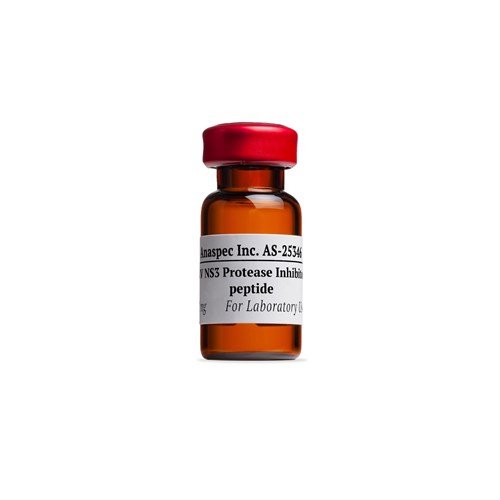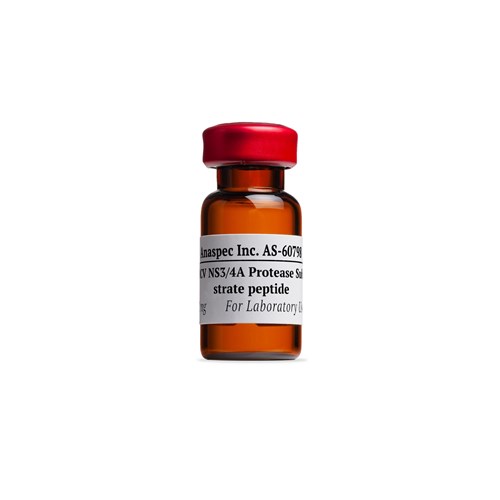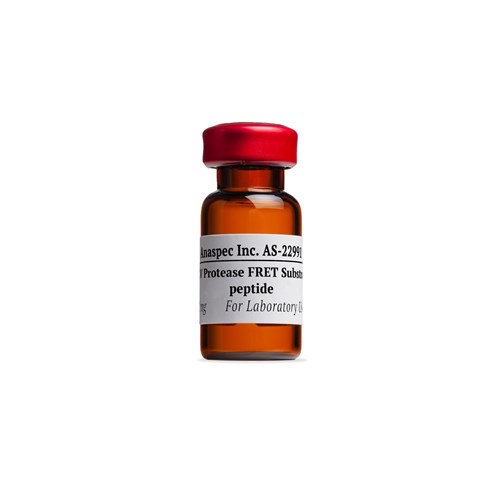 Citations
Design, asymmetric synthesis, and evaluation of pseudosymmetric sulfoximine inhibitors against HIV-1 protease
J BMC . 2010 Mar 01 ; 18(5) 2037 | DOI : https://doi.org/10.1016/j.bmc.2010.01.020
Identification and biochemical characterization of Halisulfate 3 and Suvanine as novel inhibitors of Hepatitis C Virus NS3 Helicase from a marine sponge
Mar Drugs . 2014 Jan 21 ; 12(1) 462 | DOI : 10.3390/md12010462
HCV-NS3/4A Protease inhibitory iridoid glucosides and dimeric foliamenthoic ccid derivatives from Anarrhinum orientale
J Nat Prod . 2011 Apr 20 ; 74(5) 943 | DOI : 10.1021/np100554h
Potent and selective inhibition of hepatitis C virus replication by novel phenanthridinone derivatives
Biochem Biophys Res Commun . 2011 Nov 09 ; 415(4) 714 | DOI : 10.1016/j.bbrc.2011.10.153
Bioactivity-guided screening identifies pheophytin a as a potent anti-hepatitis C virus compound from Lonicera hypoglauca Miq
Biochem Biophys Res Commun . 2009 May 19 ; 385(2) 230 | DOI : 10.1016/j.bbrc.2009.05.043
NS3 helicase domains involved in infectious intracellular Hepatitis C Virus particle assembly
J Virol. . 2008 May 28 ; 82(15) 7624 | DOI : 10.1128/JVI.00724-08
Development of a rapid phenotypic test for HCV protease inhibitors with potential use in clinical decisions
Genet Mol Biol. . 2016 Jul 01 ; 39(3) 358 | DOI : 10.1590/1678-4685-GMB-2016-0022
Synthesis of dammarane-type triterpene derivatives and their ability to inhibit HIV and HCV proteases
Bioorg Med Chem . 2009 Mar 14 ; 17(8) 3003 | DOI : 10.1016/j.bmc.2009.03.019
HCV Protease Inhibitory, Cytotoxic and Apoptosis-Inducing Effects of Oleanolic Acid Derivatives
J Pharm Pharm Sci. . 2009 Jan 01 ; 12(3) 243 | DOI : 10.18433/j3dw2d
Inhibitory effects of antrodins A-E from Antrodia cinnamomea and their metabolites on hepatitis C virus protease
Phytother Res. . 2009 Apr 01 ; 23(4) 582 | DOI : 10.1002/ptr.2657
Triterpenes from Cynomorium songaricium--analysis of HCV protease inhibitory activity, quantification, and content change under the influence of heating.
J Nat Med . 2008 Jul 04 ; 63(1) 9 | DOI : 10.1007/s11418-008-0267-7
Piperazine-derived small molecules as potential Flaviviridae NS3 protease inhibitors. In vitro antiviral activity evaluation against Zika and Dengue viruses
Bioorg Chem . 2023 Feb 04 ; 133 106408 | DOI : https://doi.org/10.1016/j.bioorg.2023.106408
M. del Rosario García-Lozano
et al