You are here:

SensoLyte® Anti-Mouse/Rat ß-Amyloid (1-40) Quan...
SensoLyte® Anti-Mouse/Rat ß-Amyloid (1-40) Quantitative ELISA Kit Colorimetric - 1 kit
Cat.Number :

AS-55553

Manufacturer Ref. :
Availability :
Shipping conditions :

Ice fees will apply
This SensoLyte® high-sensitivity (2pg/ml) beta-Amyloid (1-40) Quantitative ELISA Kit (Mouse/Rat) provides a convenient and quantitative assay for determining mouse/rat beta-Amyloid (1-40) (Aβ40) amount in cell and tissue lysate as well as in body fluids. Compared to other mouse/rat anti-Aβ40 ELISA kits on the market, it takes less time to run this assay. HRP conjugated detection antibody in this kit is added simultaneously with the samples and standards during the assay. This eliminates extra incubation and washing steps and makes this kit a one-step procedure for Aβ40 quantification.
Alzheimer's Disease (AD) is the most common neurodegenerative disorder in elderly people. It has been demonstrated that AD has biological causes and is characterized by the presence of senile plaques and neurofibrillary tangles mainly in cerebral cortex and hippocampus brain regions. Beta-Amyloid (1-40) (Aβ40) and beta-Amyloid (1-42) (Aβ42) are the main components of the above plaques; however, other forms of beta-Amyloid peptides are also present. Both peptides are cleaved from the Amyloid Precursor Protein (APP) by β-secretase and γ-secretase enzymes. Many studies suggest that Aβ42 or/and Aβ43 are required to initiate formation of amyloid plaques and neurofibrills that leads to the neurodegeneration, while Aβ40 is less neurotoxic.
Specifications
Packaging
Kits components

Component A: Mouse monoclonal anti-beta-Amyloid (1-40) coated plate: 12 x 8-well strips. Component B: Mouse/rat beta-Amyloid (1-40) Peptide Standard (lyophilized): 1 µg. Component C: 1 X Sample Dilution Buffer: 60 ml. Component D: 10 X Wash Buffer: 30 ml. Component E: TMB Color Substrate Solution: 10 ml. Component F: Stop Solution: 10 ml. Component G: Peptide Standard Reconstitution Buffer: 1 ml. Component H: Detection Antibody (Rabbit anti-Mouse/Rat beta-Amyloid-HRP): 50 µl. Component I: 1 X Detection Antibody Dilution Buffer: 10 ml. Component J: Adhesive Plate Covers: 2 pieces.

Chemistry
UniProt number
Storage & stability
Storage Conditions

Store all components at 4°C for up to 6 months. Component B Reconstituted Peptide Standard must be stored at -80 °C in small aliquots. Protect components E and G from light.

Activity
Application
Biomarker Target
Detection Method
Detection Limit
Research Area
Sub-category Research Area
Usage
Source
Source / Species
You may also be interested in the following product(s)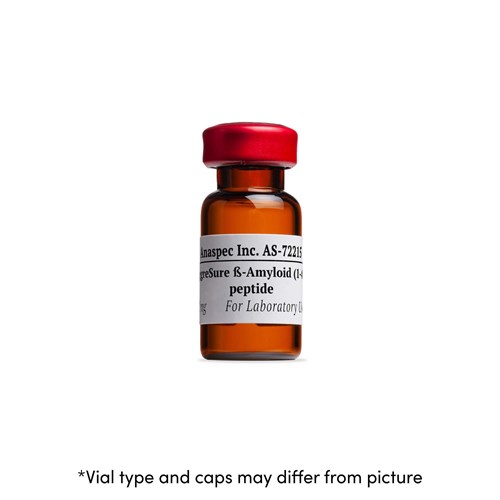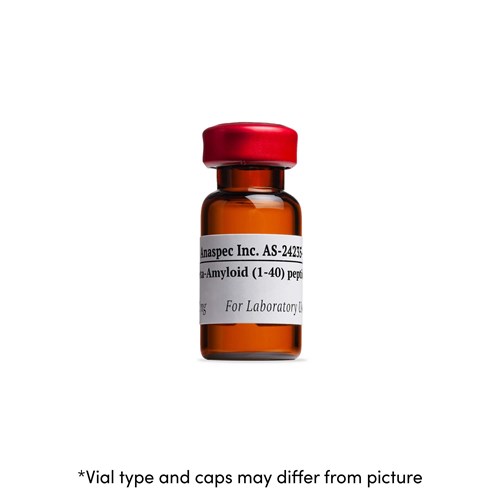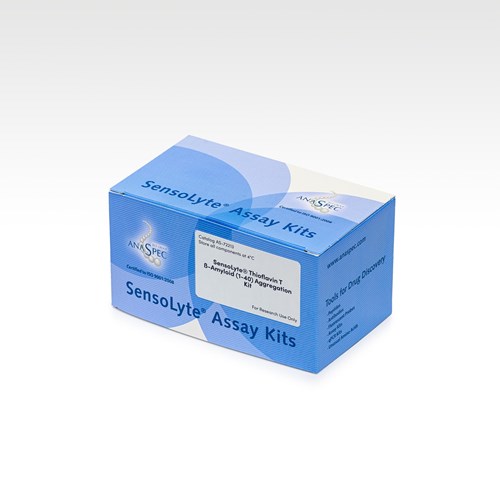 Citations
ApoE2, ApoE3, and ApoE4 Differentially Stimulate APP Transcription and Aβ Secretion
Cell . 2017 Jan 26 ; 168(3) 427 | DOI : https://doi.org/10.1016/j.cell.2016.12.044
References
Animal Models of Alzheimer's Disease. Neuronal Models for Studying Tau Pathology
Intl J Alzheimer's Dis . 2010 Jul 18 ; 2010 528474 | DOI : https://doi.org/10.4061/2010/528474
Anti-Aβ42– and anti-Aβ40–specific mAbs attenuate amyloid deposition in an Alzheimer disease mouse model
J Clin Invest . 2006 Jan 04 ; 116(1) 193 | DOI : 10.1172/JCI25410
APP processing in Alzheimer's disease
Mol Brain . 2011 Jan 07 ; 4 1 | DOI : https://doi.org/10.1186/1756-6606-4-3
The culprit behind amyloid beta peptide related neurotoxicity in Alzheimer's disease: oligomer size or conformation?
Alzheimer's Res Therapy . 2010 Jul 14 ; 2(12) 1 | DOI : https://doi.org/10.1186/alzrt36
Saliva levels of Abeta1-42 as potential biomarker of Alzheimer's disease: a pilot study
BMC Neurol . 2010 Nov 03 ; 10(108) | DOI : https://doi.org/10.1186/1471-2377-10-108