You are here:

SensoLyte® Plus 520 MMP-2 Assay Kit Fluorimetri...
SensoLyte® Plus 520 MMP-2 Assay Kit Fluorimetric and Enhanced Selectivity - 1 kit
Cat.Number :

AS-72224

Manufacturer Ref. :
Availability :
Shipping conditions :

Ice fees will apply
Matrix metalloproteinases (MMPs) belong to a family of secreted or membrane-associated zinc
endopeptidases capable of digesting extracellular matrix components. MMP-2 (72-kDa gelatinase-A/type IV collagenase) is responsible for degradation of collagen, fibronectin, laminin, and elastin. It has been shown that MMP-2 plays a key role in angiogenesis, tumor cell invasion, and metastasis. MMP-2 is also considered a therapeutic target for cancer.
The SensoLyte® Plus 520 MMP-2 Assay Kit is designed specifically for detecting MMP-2 activity in biological samples, such as culture medium, serum, plasma, synovial fluid, and tissue homogenate, which may contain multiple MMPs. Members of the MMP family have poor substrate
sequence specificity, thus using peptide substrate alone to differentiate the activity of a particular MMP from other MMPs is inadequate. A monoclonal anti-human-MMP-2 antibody is therefore employed to pull down MMP-2 from the mixture. MMP-2 activity is then quantified by a 5-FAM/QXL™ 520 fluorescence resonance energy transfer (FRET) peptide (Scheme 1). The long wavelength fluorescence of 5-FAM is less interfered by the autofluorescence of components in biological samples and test compounds. The assay can detect as low as 3 ng/mL active MMP-2 enzyme. The assay has no cross-reactivity with human MMP-1, 3, 7, 8, 9, 10, 12, 13, 15, 16 and has minimal cross-reactivity with MMP-14).
Specifications
Packaging
Kits components

Component A: Microplate coated with monoclonal anti human MMP-2 antibody: 12 x 8 black strips Component B: MMP-2 standard, recombinant human pro-MMP-2: 10 µg/mL, 15 µL Component C: Assay buffer: 50 mL Component D: 10X Wash buffer: 50 mL Component E: APMA, 4-aminophenylmercuric acetate (Caution: Contain organic mercury. Dispose it according to your local regulations): 100 mM, 150 µL Component F: MMP-2 substrate 5-FAM/QXL™520 FRET peptide Ex/Em=490 nm/520 nm upon cleavage: 50 µL Component G: Stop Solution: 10 mL Component H: Adhesive cover strip: 3 sheets

Chemistry
UniProt number
Properties
Absorbance (nm)
Emission (nm)
Storage & stability
Storage Conditions

Store Component B at -80°C. Store all other components at -20°C. Components D, G, H can be stored at RT for convenience.

Activity
Application
Biomarker Target
Detection Method
Detection Limit
Research Area
Sub-category Research Area
Usage
Source
Host
You may also be interested in the following product(s)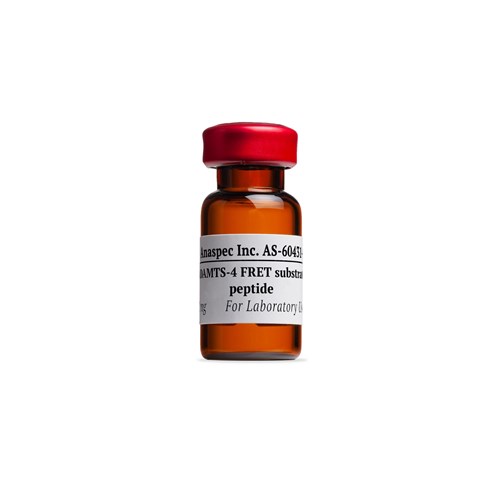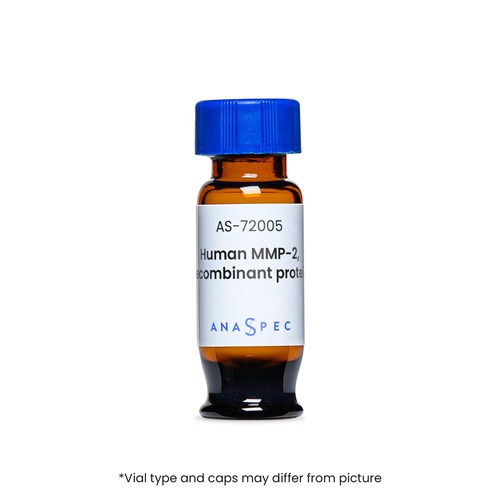 Citations
Mineralocorticoid receptor antagonism in diabetes reduces albuminuria by preserving the glomerular endothelial glycocalyx.
JCI Insight . 2023 Feb 07 ; e154164 | DOI : 10.1172/jci.insight.154164
The Effects of Propofol on a Human in vitro Blood-Brain Barrier Model
Front Cell Neurosci. . 2022 May 11 ; 16 835649 | DOI : 10.3389/fncel.2022.835649
Stepwise candidate drug screening for myopia control by using zebrafish, mouse, and Golden Syrian Hamster myopia models.
EBioMedicine . 2021 Mar 01 ; 65 103263 | DOI : https://doi.org/10.1016/j.ebiom.2021.103263
Empagliflozin reduces high glucose-induced oxidative stress and miR-21-dependent TRAF3IP2 induction and RECK suppression, and inhibits human renal proximal tubular epithelial cell migration and epithelial-to-mesenchymal transition.
Cell Signal . 2020 Apr 01 ; 68 109506 | DOI : 10.1016/j.cellsig.2019.109506
Secreted matrix metalloproteinase-14 is a predictor for antifibrotic effect of IC-2-engineered mesenchymal stem cell sheets on liver fibrosis in mice
Regen Ther . 2021 Aug 26 ; 18 292 | DOI : https://doi.org/10.1016/j.reth.2021.08.004