You are here:

IV9 (476-484), HIV-1 RT Epitope - 1 mg
IV9 (476-484), HIV-1 RT Epitope - 1 mg
Cat.Number :

AS-61524

Manufacturer Ref. :
Availability :
This is a reverse transcriptase (RT) epitope (Pol residues 476-484). Within HIV-1 RT the peptide appears to be the dominant HLA A*0201-restricted epitope. Was used to investigate possible mechanisms behind HIV-1 escape from CTL. IV9 is the actual epitope processed and presented in HIV-1-infected cell lines.
Specifications
Chemistry
Sequence one letter code
Sequence three letter code

H-Ile-Leu-Lys-Glu-Pro-Val-His-Gly-Val-OH

Molecular Formula
Molecular Mass/ Weight
Modification
Conjugation
Quantity & Purity
Purity
Storage & stability
Form
Storage Conditions
Activity
Biomarker Target
Research Area
Sub-category Research Area
Usage
Source
Source / Species
You may also be interested in the following product(s)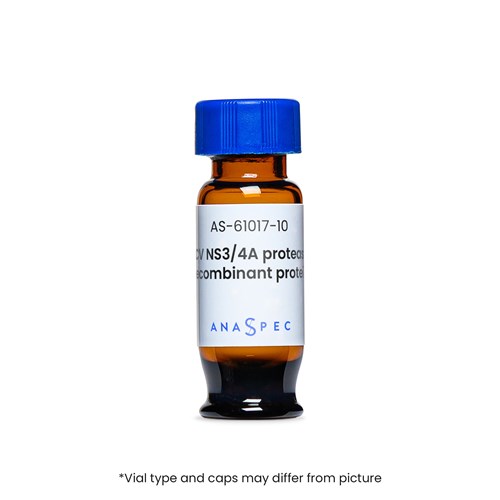 References
Epitope Escape Mutation and Decay of Human Immunodeficiency Virus Type 1-Specific CTL Responses
J Immunol . 2003 Nov 15 ; 171(10) 5372 | DOI : https://doi.org/10.4049/jimmunol.171.10.5372
IFN-γ Exposes a Cryptic Cytotoxic T Lymphocyte Epitope in HIV-1 Reverse Transcriptase
J Immunol . 1999 Jun 15 ; 162(12) 7075
Lack of strong immune selection pressure by the immunodominant, HLA-A 0201-restricted cytotoxic T lymphocyte response in chronic human immunodeficiency virus-1 infection.
J Clin Invest . 1998 Jun 01 ; 101(11) 2559 | DOI : 10.1172/JCI2405
Patterns of Immunodominance in HIV-1–specific Cytotoxic T Lymphocyte Responses in Two Human Histocompatibility Leukocyte Antigens (HLA)-identical Siblings with HLA-A 0201 Are Influenced by Epitope Mutation
JEM . 1997 Apr 21 ; 185(8) 1423 | DOI : https://doi.org/10.1084/jem.185.8.1423