You are here:

JAG-1, Scrambled - 1 mg
JAG-1, Scrambled - 1 mg
Cat.Number :

AS-64239

Manufacturer Ref. :
Availability :
This peptide is a scrambled sequence of JAG-1 (188-204), a Notch Ligand
Specifications
Chemistry
Sequence one letter code
Sequence three letter code

H-Arg-Cys-Gly-Pro-Asp-Cys-Phe-Asp-Asn-Tyr-Gly-Arg-Tyr-Lys-Tyr-Cys-Phe-OH

Molecular Formula
Molecular Mass/ Weight
Modification
Conjugation
Quantity & Purity
Purity
Storage & stability
Form
Storage Conditions
Activity
Biomarker Target
Research Area
Sub-category Research Area
Usage
Source
Source / Species
You may also be interested in the following product(s)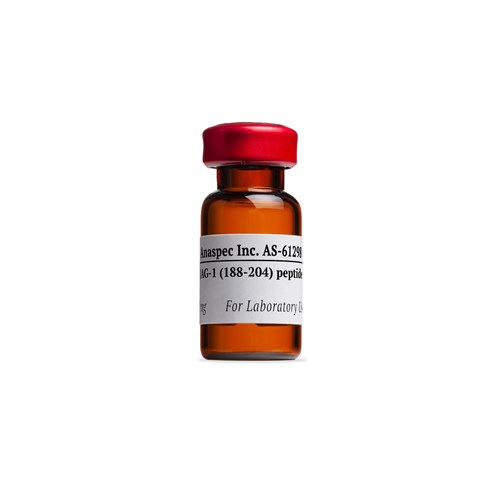 Citations
Notch signaling activation is critical to the development of neuropathic pain
BMC Anesthesiol . 2015 Mar 28 ; 15 41 | DOI : 10.1186/s12871-015-0021-0
Activation of Notch signaling by short-term treatment with Jagged-1 enhances store-operated Ca(2+) entry in human pulmonary arterial smooth muscle cells.
Am J Physiol Cell Physiol . 2014 Feb 26 ; 306 C871 | DOI : 10.1152/ajpcell.00221.2013
References
Jagged-1 mediated activation of notch signaling induces complete maturation of human keratinocytes through NF-κB and PPARγ
Cell Death Different . 2002 Jul 16 ; 9(8) 842 | DOI : 10.1038/sj.cdd.4401036