You are here:

SensoLyte® 490 HCV Protease Assay Kit Fluorimet...
SensoLyte® 490 HCV Protease Assay Kit Fluorimetric 500 assays - 1 kit
Cat.Number :

AS-71126

Manufacturer Ref. :
Availability :
Shipping conditions :

Ice fees will apply
HCV protease is identified as an important drug-screening target. The SensoLyte® 490 HCV Protease Assay Kit uses an optimized FRET peptide substrate for the continuous measurement of HCV NS3/4a activity. This FRET substrate is cleaved specifically by HCV NS3/4a protease thereby liberating the C-terminal peptide-fluorophore fragment from the proximity quenching effect of the dark quencher, resulting in a more than 10-fold increase in fluorescence. This assay can detect HCV NS3/4a protease activity at 1 pmole.
Specifications
Packaging
Kits components

Component A: HCV NS3/4A protease substrate Ex/Em=340 nm/490 nm upon cleavage: 600 µL Component B: EDANS, fluorescence reference standard: 100 µM DMSO solution, 20 µL Component C: 2X Assay buffer: 50 mL Component D: Stop solution: 30 mL Component E: DTT: 1 M, 1 mL X 2 vials Component :F Pep4AK, HCV NS3 protease cofactor: 300 µL, 600 µM

Properties
Absorbance (nm)
Emission (nm)
Storage & stability
Storage Conditions

Store all components at -20°C. Components C and D can be stored at room temperature for convenience. Protect Components A and B from light.

Activity
Application
Biomarker Target
Detection Method
Detection Limit
Research Area
Sub-category Research Area
Usage
You may also be interested in the following product(s)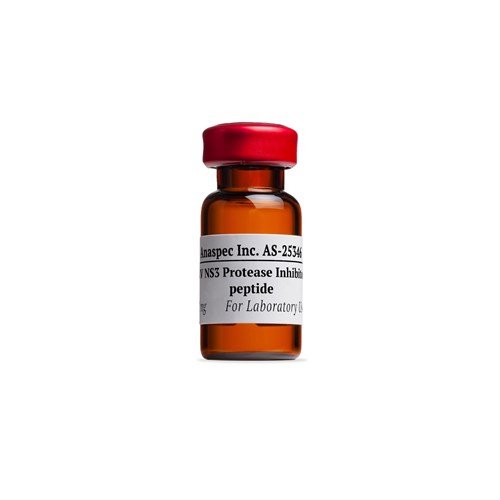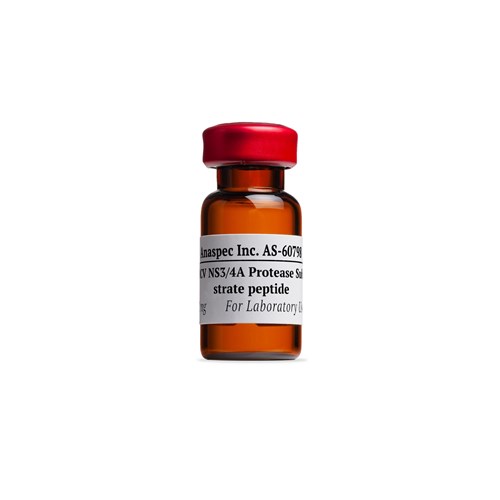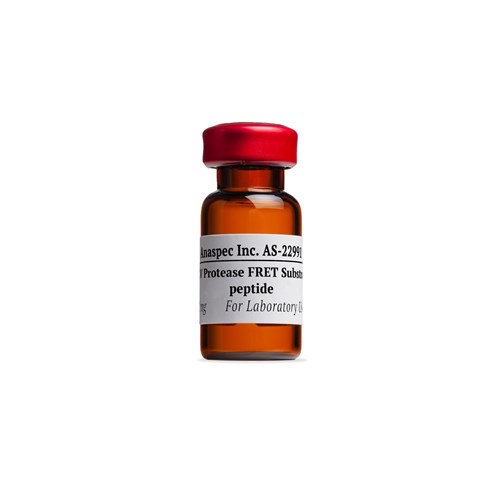 Citations
Failure of pelvic organ support in mice deficient in fibulin-3
Am J Pathol . 2008 Dec 18 ; 174 206 | DOI : 10.2353/ajpath.2009.080212
IL-1β-induced, matrix metalloproteinase-3-regulated proliferation of embryonic stem cell-derived odontoblastic cells is mediated by the Wnt5 signaling pathway
Exp Cell Res . 2014 May 20 ; 328(1) 69 | DOI : 10.1016/j.yexcr.2014.05.006
Endothelins stimulate the production of stromelysin-1 in cultured rat astrocytes
Biochem Biophys Res Commun . 2008 Apr 03 ; 371(4) 659 | DOI : 10.1016/j.bbrc.2008.04.064
Impaired dephosphorylation renders G6PD-knockdown HepG2 cells more susceptible to H(2)O(2)-induced apoptosis.
Free Radic Biol Med . 2010 Apr 24 ; 361 49(3) | DOI : 10.1016/j.freeradbiomed.2010.04.019
2-Arylmethylaminomethyl-5,6-dihydroxychromone derivatives with selective anti-HCV activity.
Bioorg Med Chem Lett . 2011 Jun 01 ; 21(11) 3202 | DOI : 10.1016/j.bmcl.2011.04.055
Ceestatin, a novel small molecule inhibitor of hepatitis C virus replication, inhibits 3-hydroxy-3-methylglutaryl-coenzyme A synthase.
J Infect Dis. . 2011 Aug 15 ; 204(4) 609 | DOI : 10.1093/infdis/jir303
Mutations in HCV non-structural genes do not contribute to resistance to nitazoxanide in replicon-containing cells.
Antiviral Res . 2011 Sep 01 ; 91(3) 233 | DOI : 10.1016/j.antiviral.2011.05.017
A method to simultaneously monitor hepatitis C virus NS3 helicase and protease activities.
Methods Mol Biol . 2010 Jan 01 ; 587 223 | DOI : 10.1007/978-1-60327-355-8_16
Zip6-attenuation promotes epithelial-to-mesenchymal transition in ductal breast tumor (T47D) cells.
Exp Cell Res . 2009 Oct 21 ; 316(3) 366 | DOI : 10.1016/j.yexcr.2009.10.011