You are here:

SensoLyte® 520 Calpain Activity Assay Kit Fluor...
SensoLyte® 520 Calpain Activity Assay Kit Fluorimetric - 1 kit
Cat.Number :

AS-72149

Manufacturer Ref. :
Availability :
Shipping conditions :

Ice fees will apply
The calpains are a family of intracellular Ca2+ dependent cysteine proteases. The best-characterized calpains are isoforms 1 (µ) and 2 (m). They respond to Ca2+ signals by cleaving many specific proteins, thereby irreversibly modifying their function(s). Calpains are implicated in a variety of Ca2+ regulated cellular processes as well as various pathological phenomena such as ischemic injury, muscular dystrophy, diabetes, cataract, atherosclerosis, Alzheimer's disease, and cancer. Calpains represent potential therapeutic targets for drug discovery.
The SensoLyte® 520 Calpain Assay Kit is optimized for detecting calpain activity. This kit contains a novel internally quenched 5-FAM/QXL™ 520 FRET substrate. Calpain protease cleaves the FRET substrate into two separate fragments resulting in the release of 5-FAM fluorescence which can be monitored at excitation/emission= 490/520 nm. Increase in fluorescence is proportional to the calpain activity. The assay can detect both calpain 1 (µ) and 2 (m) activities and is ideal for kinetic study of these enzymes. The long wavelength fluorescence of 5-FAM is less interfered by the autofluorescence of components in biological samples and test compounds. The assays are performed in a convenient 96-well microplate format.
Specifications
Packaging
Kits components

Component A: 5-FAM/QXL 520 Calpain Substrate, Ex/Em=490 nm/520 nm upon cleavage: 1 mM, 50 µL Component B: 5-FAM, Fluorescence Reference Standard, Ex/Em=490 nm/520 nm: 1 mM, 10 µL Component C: Assay Buffer: 20 mL Component D: Human Calpain: 0.5 mg/mL, 100 µL Component E: Calpain Inhibitor: 50 µM, 10 µL Component F: DTT: 1 M, 20 µL

Chemistry
UniProt number
Properties
Absorbance (nm)
Emission (nm)
Storage & stability
Storage Conditions

Store component D at -80°C. Store all other components at -20°C. Component C can be stored at room temperature for convenience. Protect components A and B from light and moisture.

Activity
Application
Biomarker Target
Detection Method
Detection Limit
Research Area
Sub-category Research Area
Usage
You may also be interested in the following product(s)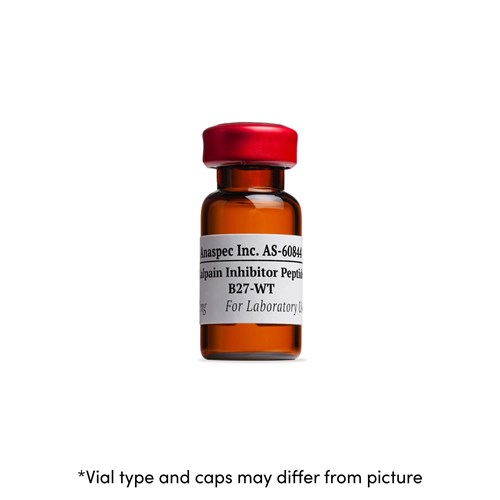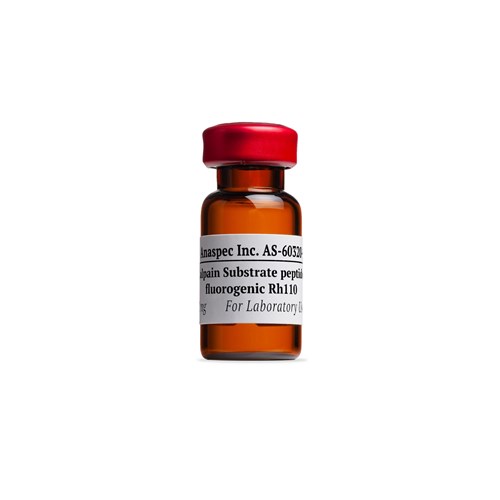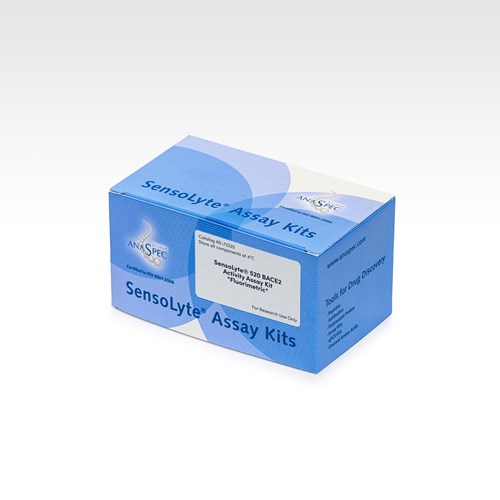 Citations
Effect of partial outlet obstruction and reversal on rabbit bladder physiology and biochemistry: Duration of recovery and severity of function
BJU Int. . 2014 Jul 15 ; 114(6) 946 | DOI : 10.1111/bju.12687
Targeted disruption of Nrg1 in granulosa cells alters the temporal progression of oocyte maturation
Mol Endocrinol. . 2014 Mar 20 ; 28(5) 706 | DOI : 10.1210/me.2013-1316
The effect of partial outlet obstruction on calpain and phospholipase-2 activities: analyzed by severity and duration
Mol Cell Biochem . 2013 Jun 05 ; 381(1-2) 217 | DOI : 10.1007/s11010-013-1705-8
EGF-Like factors induce expansion of the cumulus cell-oocyte complexes by activating calpain-mediated cell movement
Endocrinology . 2012 Jun 06 ; 153(8) 3949 | DOI : 10.1210/en.2012-1059
Developmentally Regulated Ceramide Synthase 6 Increases Mitochondrial Ca2+ Loading Capacity and Promotes Apoptosis
J Biol Chem. . 2010 Dec 10 ; 286(6) 4644 | DOI : 10.1074/jbc.M110.164392
Radiocontrast Agent Diatrizoic Acid Induces Mitophagy and Oxidative Stress via Calcium Dysregulation
Int. J. Mol. Sci. . 2019 Aug 21 ; 20(17) 4074 | DOI : https://doi.org/10.3390/ijms20174074
Capsaicin Synergizes with Camptothecin to Induce Increased Apoptosis in Human Small Cell Lung Cancers via the Calpain Pathway
Biochem Pharmacol. . 2017 Apr 01 ; 129 54 | DOI : 10.1016/j.bcp.2017.01.004