You are here:

SensoLyte® 520 MMP-12 Assay Kit Fluorimetric - ...
SensoLyte® 520 MMP-12 Assay Kit Fluorimetric - 1 kit
Cat.Number :

AS-71157

Manufacturer Ref. :
Availability :
Shipping conditions :

Ice fees will apply
Matrix metalloproteinases (MMPs) belong to a family of secreted or membrane-associated proteins capable of digesting extracellular matrix components. MMP-12 (macrophage elastase) is expressed in activated macrophages and may play a role in smoke-induced emphysema.
SensoLyte® 520 MMP-12 Assay Kit uses a 5-FAM (fluorophore) and QXL520™ (quencher) labeled FRET peptide substrates for continuous measurement of the enzyme activities. This substrate showed excellent specificity to MMP-12 with minimal cross-reaction with MMP-1, 2, 7, 8, 9, 9, 13 and 14. In an intact FRET peptide, the fluorescence of 5-FAM is quenched by QXL520™. Upon the cleavage of the FRET peptide by MMP-12, the fluorescence of 5-FAM is recovered, and can be continuously monitored at excitation/emission = 490 nm/520 nm. With superior fluorescence quantum yield and longer emission wavelength, 5-FAM/QXL520™ based FRET peptide is less interfered by the autofluorescence of test compounds and cellular components and provides better assay sensitivity.
Specifications
Packaging
Kits components

Component A: MMP-12 substrate Ex/Em=490 nm/520 nm upon cleavage: 60 µL Component B: 5-FAM-Pro-Leu-OH, Fluorescence reference standard Ex/Em=490 nm/520 nm: 1 mM, 10 µL Component C: APMA, 4-aminophenylmercuric acetate (Caution: Organic mercury. Handle with care! Do not dispose into sink!): 1 M, 20 µL Component D: Assay buffer: 20 mL Component E: Stop solution: 10 mL

Chemistry
UniProt number
Properties
Absorbance (nm)
Emission (nm)
Storage & stability
Storage Conditions

Store all components at -20°C. Protect components A and B from light. Components D and E can be stored at 4 °C for convenience.

Activity
Application
Biomarker Target
Detection Method
Detection Limit
Research Area
Sub-category Research Area
Usage
You may also be interested in the following product(s)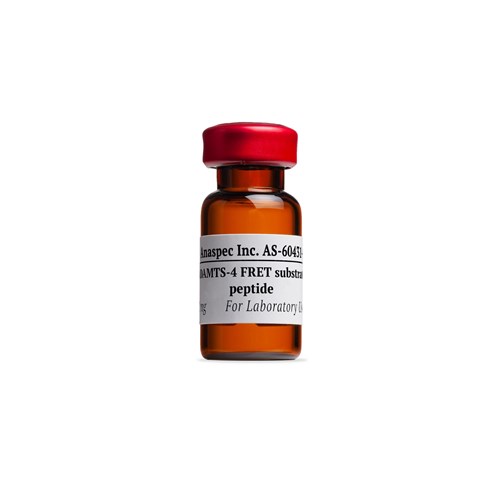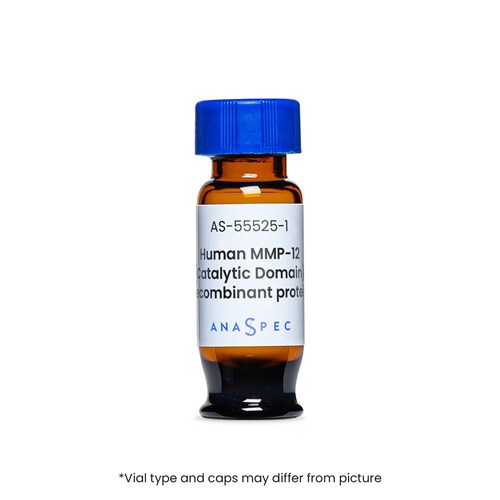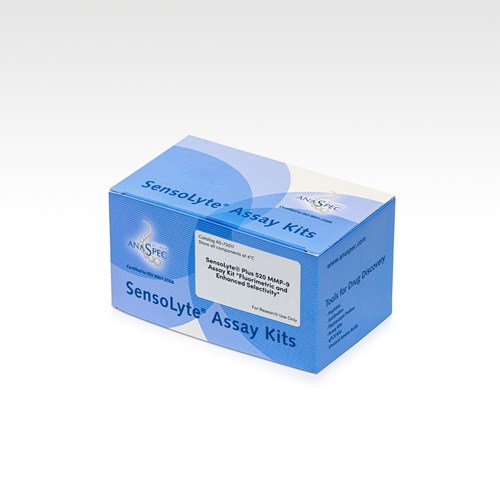 Citations
The endogenous protease inhibitor TIMP-1 mediates protection and recovery from cutaneous photodamage
J Invest Dermatol. . 2012 Jun 21 ; 132(12) 2800 | DOI : 10.1038/jid.2012.204
Matrix metalloproteinase-12 (MMP-12) SNP affects MMP activity, lung macrophage infiltration and protects against emphysema in COPD
Thorax . 2011 Jul 05 ; 66(11) 970 | DOI : 10.1136/thx.2011.159087
Modulation of the angiogenic phenotype of normal and systemic sclerosis endothelial cells by gain-loss of function of pentraxin 3 and matrix metalloproteinase 12
Arthritis Rheumatol . 2010 Aug 01 ; 62(8) 2488 | DOI : 10.1002/art.27522
Avenanthramide C as a novel candidate to alleviate osteoarthritic pathogenesis.
BMB Rep. . 2021 Oct 03 ; 54(10) 528 | DOI : 10.5483/BMBRep.2021.54.10.108