You are here:

SensoLyte® 520 MMP-3 Assay Kit Fluorimetric - 1...
SensoLyte® 520 MMP-3 Assay Kit Fluorimetric - 1 kit
Cat.Number :

AS-71152

Manufacturer Ref. :
Availability :
Shipping conditions :

Ice fees will apply
Matrix metalloproteinases (MMPs) belong to a family of secreted or membrane-associated proteins capable of digesting extracellular matrix components. The importance of MMPs in tumor development and invasion and other diseases is well known. MMP-3 (stromelysin-1, transin-1) is proposed as a potential therapeutic target.
SensoLyte® 520 MMP-3 Assay Kit uses a 5-FAM (fluorophore) and QXL520™ (quencher) labeled FRET peptide substrate for continuous measurement of the enzyme activities. This substrate showed excellent specificity to MMP-3 with minimal cross-reaction with MMP-1, 2, 7, 8, 9, 13 and 14. In an intact FRET peptide, the fluorescence of 5-FAM is quenched by QXL520™. Upon the cleavage of the FRET peptide by MMP-3, the fluorescence of 5-FAM is recovered, and can be continuously monitored at excitation/emission = 490 nm/520 nm. With superior fluorescence quantum yield and longer emission wavelength, 5-FAM/QXL520™ based FRET peptide is less interfered by the autofluorescence of test compounds and cellular components and provides better assay sensitivity.
Specifications
Packaging
Kits components

Component A: MMP-3 substrate 5-FAM/QXL™520 FRET peptide Ex/Em=490 nm/520 nm upon cleavage: 60 µL Component B: 5-FAM-Pro-Leu-OH, fluorescence reference standard Ex/Em=490 nm/520 nm: 1 mM, 10 µL Component C: APMA, 4-aminophenylmercuric acetate (Caution: Organic mercury. Handle with care! Do not dispose into sink!): 1 M, 20 µL Component D: Assay buffer: 20 mL Component E: Stop solution: 10 mL

Chemistry
UniProt number
Properties
Absorbance (nm)
Emission (nm)
Storage & stability
Storage Conditions

Store all components at -20°C. Protect components A and B from light. Components D and E can be stored at 4 °C for convenience.

Activity
Application
Biomarker Target
Detection Method
Detection Limit
Research Area
Sub-category Research Area
Usage
You may also be interested in the following product(s)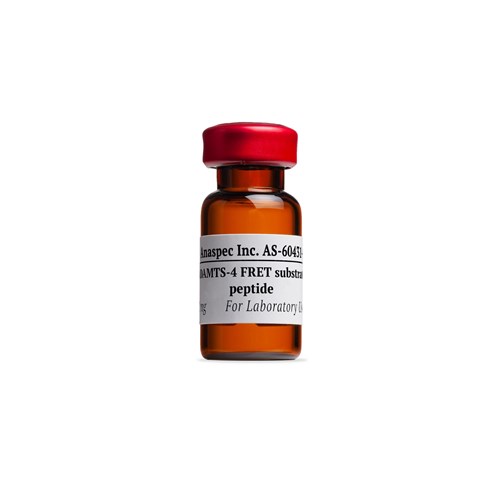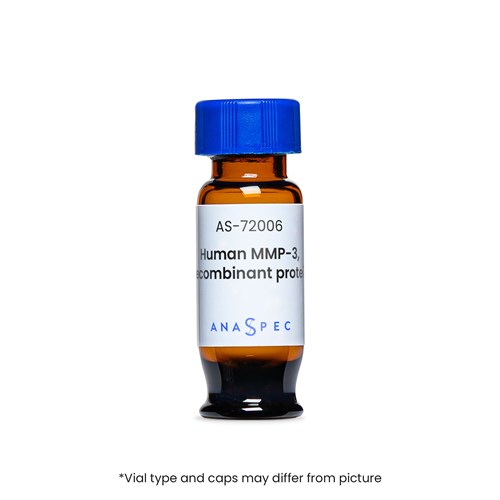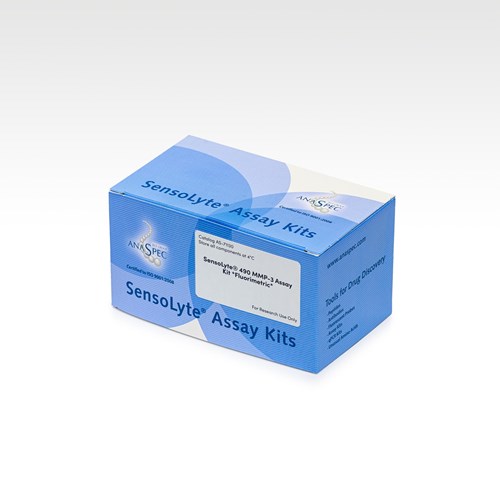 Citations
Proinflammatory cytokines induce Stromelysin-1–mediated cell proliferation in dental pulp fibroblast-like cells
J Endod . 2013 Oct 25 ; 40(1) 89 | DOI : 10.1016/j.joen.2013.09.029
Matrix metalloproteinase content and activity in low-platelet, low-leukocyte and high-platelet, high-leukocyte platelet rich plasma (PRP) and the biologic response to PRP by human ligament fibroblasts.
Am J Sports Med . 2014 Mar 13 ; 42(5) 1211 | DOI : 10.1177/0363546514524710
Matrix metalloproteinase-3 is activated by HtrA2/Omi in dopaminergic cells: relevance to Parkinson's disease
Neurochem Int. . 2012 Jan 11 ; 60(3) 249 | DOI : 10.1016/j.neuint.2012.01.001
Liver regeneration associated protein (ALR) exhibits antimetastatic potential in hepatocellular carcinoma.
Mol Med . 2010 Dec 08 ; 17(3-4) 221 | DOI : 10.2119/molmed.2010.00117
Inhibition of MMP-3 or -9 suppresses lipopolysaccharide-induced expression of proinflammatory cytokines and iNOS in microglia
JNC . 2008 Jul 04 ; 106(2) 770 | DOI : https://doi.org/10.1111/j.1471-4159.2008.05430.x
TIMP-3 and MMP-3 contribute to delayed inflammation and hippocampal neuronal death following global ischemia
Exp Neurol. . 2008 Dec 10 ; 216(1) 122 | DOI : 10.1016/j.expneurol.2008.11.022
BIOMIMETIC STOCHASTIC TOPOGRAPHY AND ELECTRIC FIELDS SYNERGISTICALLY ENHANCE DIRECTIONAL MIGRATION OF CORNEAL EPITHELIAL CELLS IN A MMP-3 DEPENDENT MANNER
Acta Biomater . 2015 Jan 01 ; 12 102 | DOI : 10.1016/j.actbio.2014.10.007
Interleukin-1β-Induced Autophagy-Related Gene 5 Regulates Proliferation of Embryonic Stem Cell-Derived Odontoblastic Cells
PLoS One . 2015 Apr 20 ; 10(4) e0124542. | DOI : 10.1371/journal.pone.0124542