You are here:

SensoLyte® 520 Neprilysin Activity Assay Kit Fl...
SensoLyte® 520 Neprilysin Activity Assay Kit Fluorimetric - 1 kit
Cat.Number :

AS-72223

Manufacturer Ref. :
Availability :
Shipping conditions :

Ice fees will apply
Neprilysin (NEP) is a transmembrane metallopeptidase normally expressed by a variety of tissues. It is also known as neutral endopeptidase, and enkephalinase. NEP cleaves peptides at the N-terminal side of hydrophobic amino acid residues and is responsible for the degradation and inactivation of a variety of physiological substrates. NEP is a major extracellular amyloid beta-peptide degrading enzyme in the brain and targeting NEP is considered a potential therapeutic strategy for the prevention and treatment of Alzheimer's disease. NEP has also been implicated in the pathogenesis of hypertension, diabetes, and cancer.
The SensoLyte® 520 Neprilysin Assay Kit employs a novel internally quenched 5-FAM/QXL™ FRET substrate for the detection of neprilysin activity. The enzyme cleaves the FRET substrate into two separate fragments resulting in the release of 5-FAM fluorescence, which can be monitored at excitation /emission= 490/520 nm. The long wavelength fluorescence of 5-FAM is less interfered by the autofluorescence of components in biological samples and test compounds. The assay can detect as low as 0.78 ng/mL of active neprilysin.
Specifications
Packaging
Kits components

Component A: 5-FAM/QXL™-520 Neprilysin substrate, Ex/Em=490/520 nm upon cleavage: 1 mM, 50 µL Component B: 5-FAM, fluorescence reference standard, Ex/Em=490/520 nm: 1 mM, 15 µL Component C: Recombinant human neprilysin: 10 µg/mL, 100 µL Component D: 2X Assay Buffer: 30 mL Component E: Inhibitor: 0.1 mM, 15 µL

Chemistry
UniProt number
Properties
Absorbance (nm)
Emission (nm)
Storage & stability
Storage Conditions

Store component C at -80°C. Store all other components at -20°C. Component D can be stored at room temperature for convenience. Protect components A and B from light and moisture.

Activity
Application
Biomarker Target
Detection Method
Detection Limit
Research Area
Sub-category Research Area
Usage
Source
Host
You may also be interested in the following product(s)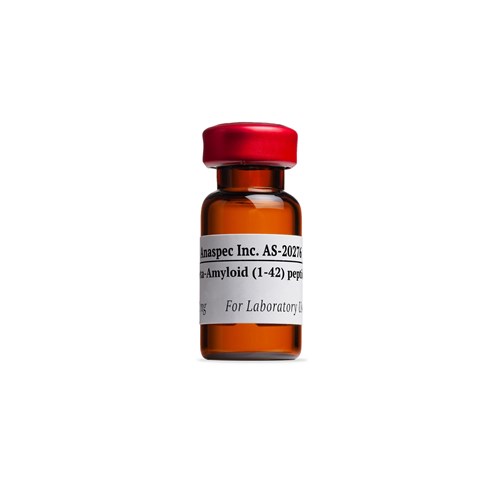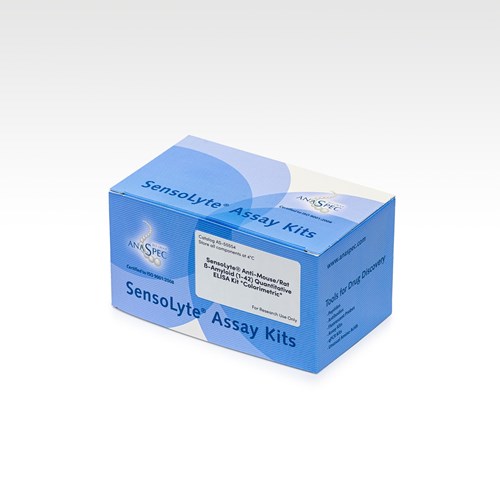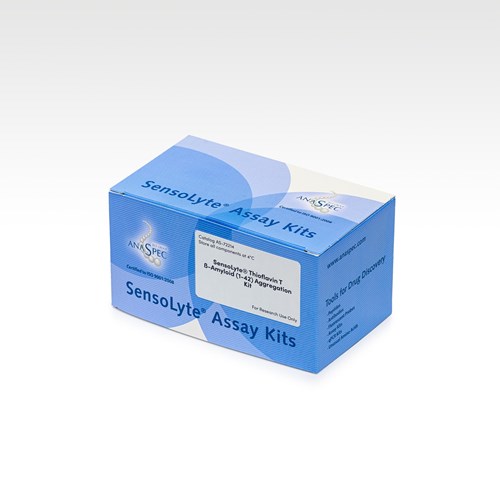 Citations
Microglia prevent beta-amyloid plaque formation in the early stage of an Alzheimer's disease mouse model with suppression of glymphatic clearance
Alzheimers Res Ther. . 2020 Oct 02 ; 12 125 | DOI : 10.1186/s13195-020-00688-1
Reduction of Abeta amyloid pathology in APPPS1 transgenic mice in the absence of gut microbiota
Sci Rep . 2017 Feb 08 ; 7 41802 | DOI : https://doi.org/10.1038/srep41802
Effect of hyperglycemia and rosiglitazone on renal and urinary neprilysin in db/db diabetic mice
Physiol Rep . 2020 Feb 05 ; 8(3) e14364 | DOI : 10.14814/phy2.14364.
Enzyme-digested Colla Corii Asini (E'jiao) prevents hydrogen peroxide-induced cell death and accelerates amyloid beta clearance in neuronal-like PC12 cells
Neural Regen Res . 2020 Dec 01 ; 15(12) 2270 | DOI : 10.4103/1673-5374.285000
Placental Syncytiotrophoblast-Derived Extracellular Vesicles Carry Active NEP (Neprilysin) and Are Increased in Preeclampsia
Hypertension . 2019 Apr 01 ; 73 1112 | DOI : 10.1161/HYPERTENSIONAHA.119.12707
Somatostatin slows Aβ plaque deposition in aged APPNL-F/NL-F mice by blocking Aβ aggregation
Sci Rep . 2023 Feb 09 ; 13 2337 | DOI : https://doi.org/10.1038/s41598-023-29559-z