You are here:

SensoLyte® Luminescent Alkaline Phosphatase Ass...
SensoLyte® Luminescent Alkaline Phosphatase Assay Kit Luminometric - 1 kit
Cat.Number :

AS-72122

Manufacturer Ref. :
Availability :
Shipping conditions :

Ice fees will apply
Alkaline phosphatase catalyzes the dephosphorylation of biomolecules in an alkaline environment and plays a key role in cell signal transduction. Besides involvement in many physiological and pathological processes alkaline phosphatase serves as a reporter for gene expression and for ELISA. SensoLyte® Luminescent Alkaline Phosphatase Assay Kit provides highly sensitive chemiluminescent substrate to quantify alkaline phosphatase activity in solutions, in cell extracts, in live cells. The kit contains: chemiluminescent substrate, positive control (calf intestine alkaline phosphatase), buffer, stop solution, an optimized 'mix and read' assay protocol that is compatible with HTS liquid handling instruments.
Specifications
Packaging
Kits components

Component A: Chemiluminescent substrate: 25 mL Component B: 10X Assay buffer: 50 mL Component C: Alkaline Phosphatase Standard, Calf Intestine: 10 µg/mL, 50 µL Component D: Triton X-100: 500 µL Component E: Stop Solution: 30 mL

Storage & stability
Storage Conditions

Store all components at 4°C. Protect component A from light.

Activity
Application
Biomarker Target
Detection Method
Detection Limit
Research Area
Sub-category Research Area
Usage
You may also be interested in the following product(s)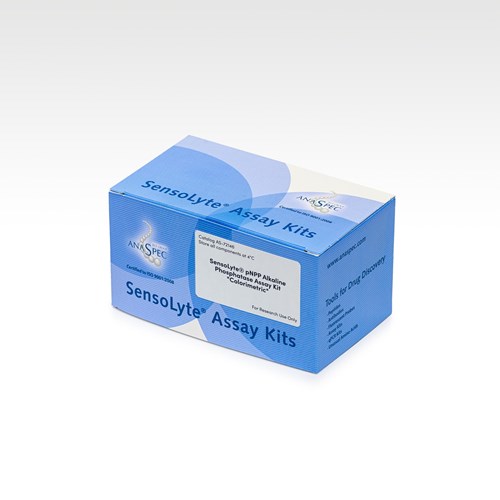 Citations
Formation of Human Colonic Crypt Array by Application of Chemical Gradients Across a Shaped Epithelial Monolayer.
Cmgh . 2017 Nov 03 ; 5(2) 113 | DOI : 10.1016/j.jcmgh.2017.10.007