You are here:

Beta-Amyloid (1-28) Peptide
Beta-Amyloid (1-28) Peptide
Cat.Number :

AS-24231

Manufacturer Ref. :
Availability :
The three-dimensional solution structure of Aß (1-28) reveals the folding of the peptide to form a predominantly a-helical structure with a bend centered at residue 12 and the side chains of histidine-13 and lysine-16 in close proximity, residing on the same face of the helix. Their proximity may constitute a binding motif with the heparan sulfate proteoglycans. Aß (1-28) is highly hydrophilic and shares sequences with bA4, the major component of Aß. Its assembly is fibrillar, i.e., elongated in a single direction. Reports show that synthetic peptides Aß (1-40) and Aß (1-28) have significant effects on normal human plasma cholesterol esterification rate. Both peptides (at concentration of 1 ng/mL) inhibit plasma cholesterol esterification rate by 40-50% compared to the control value.

Specifications
Chemistry
Sequence one letter code

DAEFRHDSGYEVHHQKLVFFAEDVGSNK

Sequence three letter code

H-Asp-Ala-Glu-Phe-Arg-His-Asp-Ser-Gly-Tyr-Glu-Val-His-His-Gln-Lys-Leu-Val-Phe-Phe-Ala-Glu-Asp-Val-Gly-Ser-Asn-Lys-OH

CAS registry number
Molecular Formula
Molecular Mass/ Weight
Modification
Conjugation
Quantity & Purity
Purity
Storage & stability
Form
Storage Conditions
Activity
Biomarker Target
Research Area
Sub-category Research Area
Usage
Source
Source / Species
You may also be interested in the following product(s)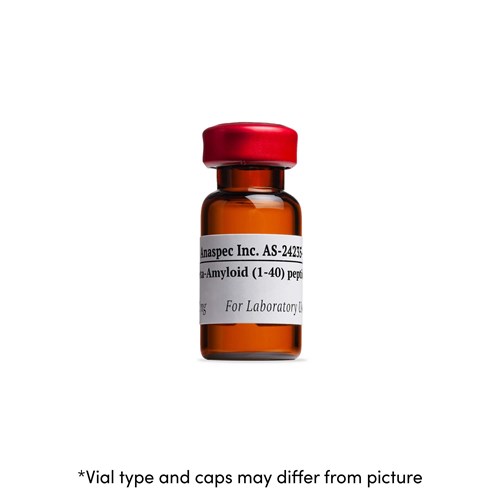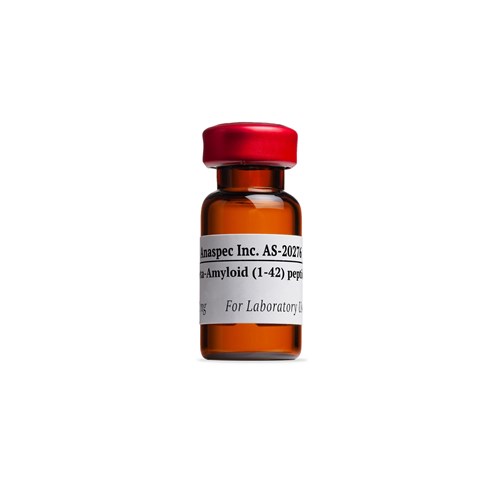 Citations
Structural and functional alterations in amyloid-β precursor protein induced by amyloid-β peptides
J Alzheimers Dis . 2014 Apr 28 ; 25(3) 547 | DOI : 10.3233/JAD-2011-101938
Bapineuzumab captures the N-terminus of the Alzheimer's disease amyloid-beta peptide in a helical conformation
Scientific Rpt . 2013 Feb 18 ; 3 | DOI : 10.1038/srep01302
Identifying the minimal copper- and zinc-binding site sequence in amyloid-β peptides
J Biol Chem . 2008 Jan 30 ; 283(16) 10784 | DOI : 10.1074/jbc.M707109200
Cholesterol Is an Important Factor Affecting the Membrane Insertion of β-Amyloid Peptide (Aβ1–40), Which May Potentially Inhibit the Fibril Formation
JBC . 2001 Dec 10 ; 277(8) 6273 | DOI : 10.1074/jbc.M104146200
Alkylated dihydroxybenzoic acid as a MALDI matrix additive for hydrophobic peptide analysis.
Anal Chem . 2012 Apr 16 ; 84(9) 4237 | DOI : 10.1021/ac300540r
Identifying the minimal Cu and Zn binding site sequence in amyloid beta peptides.
J Biol Chem . 2008 Jan 30 ; 283(16) 10784 | DOI : 10.1074/jbc.M707109200.
Lipocalin-type prostaglandin D synthase/β-trace is a major amyloid β-chaperone in human cerebrospinal fluid.
PNAS . 2007 Apr 02 ; 104(15) 6412 | DOI : 10.1073/pnas.0701585104.
Copper mediates dityrosine cross-linking of Alzheimer's amyloid-β.
Biochem . 2004 Jan 20 ; 43(2) 560 | DOI : 10.1021/bi0358824
References
Solution Structure of Residues 1-28 of the Amyloid .beta.-Peptide
Biochem. . 2022 Jan 24 ; 33(25) 7788 | DOI : https://doi.org/10.1021/bi00191a006
Sequence Effects on the Conformational Properties of the Amyloid β(1 -28) Peptide: Testing a Proposed Mechanism for the α → β Transition
Biochem. . 1995 Jun 01 ; 34(23) 7640 | DOI : https://doi.org/10.1021/bi00023a010
K. Kirshenbaum
V. Daggett