You are here:

Histone H3 (1-21)-GGK(Biotin)-NH2 - 1 mg
Histone H3 (1-21)-GGK(Biotin)-NH2 - 1 mg
Cat.Number :

AS-61702

Manufacturer Ref. :
Availability :
This sequence corresponds to the first 21 amino acids of the NH2 terminal of histone H3 followed by a GG linker and a biotinylated lysine. This peptide was used to investigate the characteristics and mechanisms of ethanol-induced histone H3 acetylation in rat hepatocytes. Immunocytochemical and immunoblot analyses revealed that ethanol treatment significantly increased H3 acetylation at Lys9 with negligible effects at Lys14, 18, and 23.
Specifications
Chemistry
Sequence one letter code

ARTKQTARKSTGGKAPRKQLA-GGK(Biotin)-NH2

Sequence three letter code

Ala-Arg-Thr-Lys-Gln-Thr-Ala-Arg-Lys-Ser-Thr-Gly-Gly-Lys-Ala-Pro-Arg-Lys-Gln-Leu-Ala-Gly-Gly-Lys(Biotin)-NH2

Molecular Mass/ Weight
Modification
Conjugation type
Modification Name
Conjugation
Quantity & Purity
Purity
Storage & stability
Form
Storage Conditions
Activity
Biomarker Target
Research Area
Sub-category Research Area
Usage
Source
Source / Species
You may also be interested in the following product(s)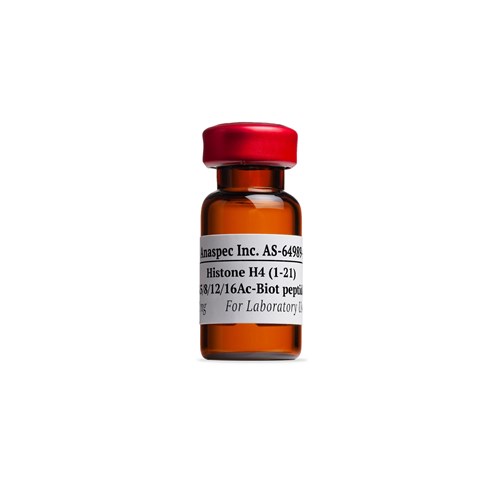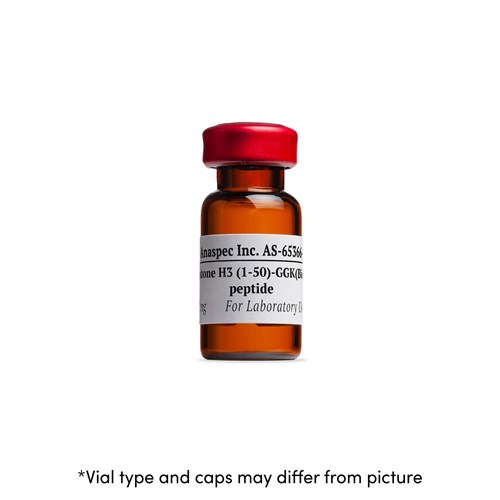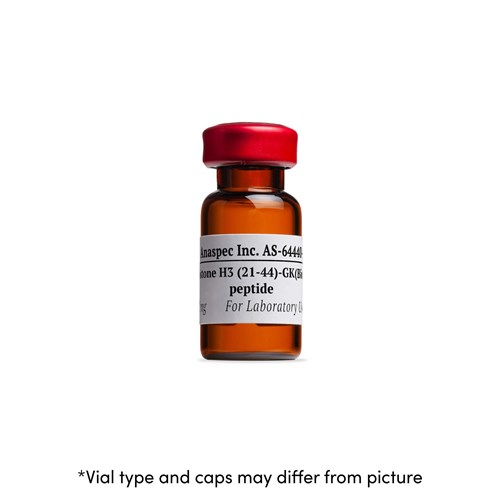 Citations
PELP1 oncogenic functions involve CARM1 regulation.
Carcinogenesis . 2013 Mar 13 ; 34(7) 1468 | DOI : 10.1093/carcin/bgt091
Miniaturization of High-Throughput Epigenetic Methyltransferase Assays with Acoustic Liquid Handling.
J Lab Autom.  . 2015 Oct 08 ; 21(1) 208 | DOI : 10.1177/2211068215610861.
The X-Linked mental retardation gene SMCX/JARID1C defines a family of histone H3 lysine 4 demethylases.
Cell . 2007 Feb 22 ; 128(6) 1077 | DOI : 10.1016/j.cell.2007.02.017
Development of homogeneous nonradioactive methyltransferase and dimethylase assays targeting histone H3 lysine 4.
J Biomol Screen . 2011 Sep 21 ; 17(1) 49 | DOI : 10.1177/1087057111416659
References
Involvement of histone acetyltransferase (HAT) in ethanol-induced acetylation of histone H3 in hepatocytes: potential mechanism for gene expression
Am J Physiol Gastrointest Liver Physiol . 2005 Dec 01 ; 289 G1124 | DOI : https://doi.org/10.1152/ajpgi.00091.2005