You are here:

[Lys(Me1)4]-Histone H3 (1-21) - 1 mg
[Lys(Me1)4]-Histone H3 (1-21) - 1 mg
Cat.Number :

AS-64459

Manufacturer Ref. :
Availability :
This is a monomethylated lysine at position 4 of the 1-21 amino acid histone H3 peptide. This form of histone methylation is characterized as being enriched around transcription start sites. It's chromatin mark was also closely correlated to cell-type specific expression of putative gene targets of enhancers. It was also noted from a genome wide study that most potential regulatory elements were enriched only by the mono-methylated version of this histone 3.
Specifications
Chemistry
Sequence one letter code

ART-K(Me1)-QTARKSTGGKAPRKQLA

Sequence three letter code

H-Ala-Arg-Thr-Lys(Me1)-Gln-Thr-Ala-Arg-Lys-Ser-Thr-Gly-Gly-Lys-Ala-Pro-Arg-Lys-Gln-Leu-Ala-OH

Molecular Mass/ Weight
Modification
Conjugation
Quantity & Purity
Purity
Storage & stability
Form
Storage Conditions
Activity
Biomarker Target
Research Area
Sub-category Research Area
Usage
Source
Source / Species
You may also be interested in the following product(s)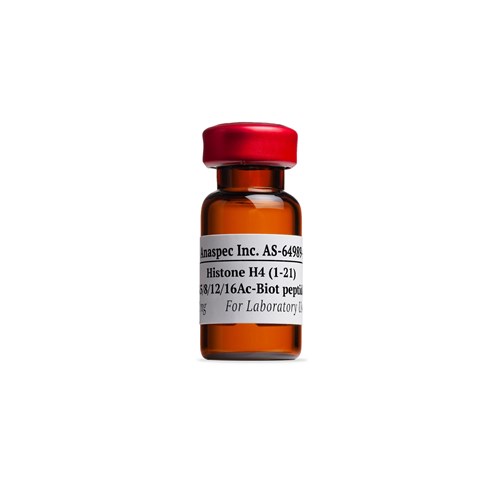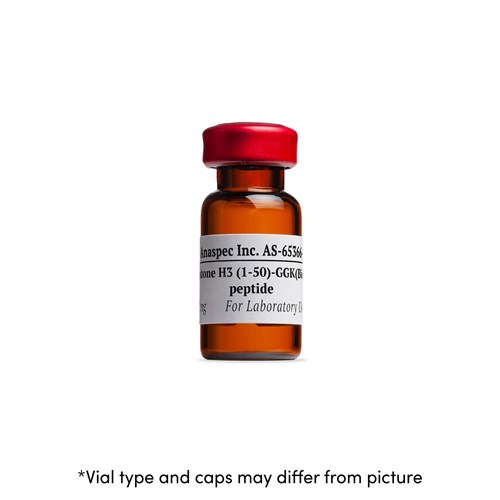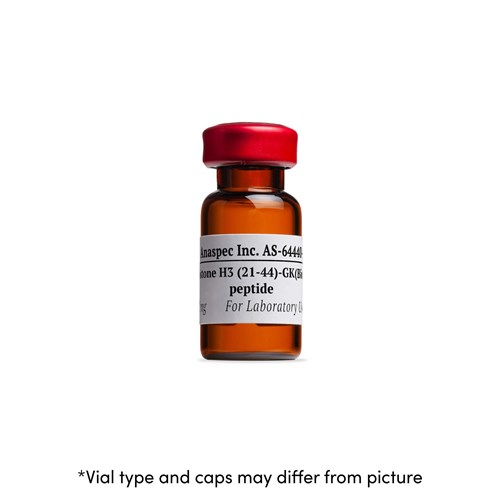 Citations
Measurement of lysine-specific demethylase-1 activity in the nuclear extracts by flow-injection based time-of-flight mass spectrometry.
J Clin Biochem Nutr . 2015 Feb 13 ; 56(2) 123 | DOI : 10.3164/jcbn.14-99
References
Arg-Gly-Asp-Ser peptide stimulates transforming growth factor-β1 transcription and secretion through integrin activation
FASEB . 2003 Aug 01 ; 17(11) 1 | DOI : https://doi.org/10.1096/fj.02-0785fje
R. Ortega-Velazquez
et al
Global Mapping of H3K4me1 and H3K4me3 Reveals the Chromatin State-Based Cell Type-Specific Gene Regulation in Human Treg Cells
PLoS One . 2011 Nov 23 ; 6(11) e27770 | DOI : https://doi.org/10.1371/journal.pone.0027770