You are here:

Pannexin-1 (Panx1), Mimetic Blocking Peptide - ...
Pannexin-1 (Panx1), Mimetic Blocking Peptide - 1 mg
Cat.Number :

AS-61911

Manufacturer Ref. :
Availability :
This is a Pannexin-1 (Panx1) mimetic blocking peptide. Pannexin-1 is a recently identified membrane protein that can form gap junction-like connections allowing intercellular passage of dyes when overexpressed in two adjacent oocytes or mammalian epithelial cell lines. Blockade of pannexin-1 in macrophage endogenously expressing the ATP-gated P2X7 receptor (P2X7R) blocks the initial dye uptake, but not the ionic current, and also blocks processing and release of interleukin-1b (IL-1b) in response to P2X7R activation.
Specifications
Chemistry
Sequence one letter code
Sequence three letter code

H-Trp-Arg-Gln-Ala-Ala-Phe-Val-Asp-Ser-Tyr-OH

CAS registry number
Molecular Formula
Molecular Mass/ Weight
Modification
Conjugation
Quantity & Purity
Purity
Storage & stability
Form
Storage Conditions
Activity
Biomarker Target
Research Area
Sub-category Research Area
Usage
Source
Source / Species
You may also be interested in the following product(s)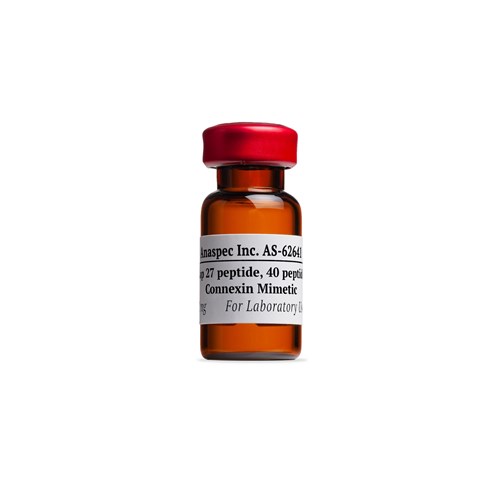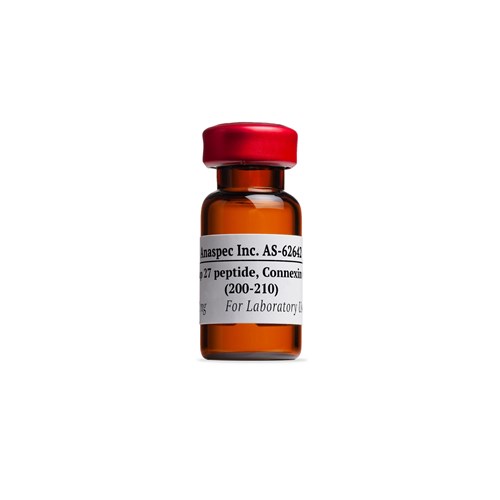 Citations
Neuroinflammation Leads to Region-Dependent Alterations in Astrocyte Gap Junction Communication and Hemichannel Activity.
J Neurosci . 2011 Jan 12 ; 31(2) 414 | DOI : 10.1523/JNEUROSCI.5247-10.2011
References
Pannexin-1 Couples to Maitotoxin- and Nigericin-induced Interleukin-1β Release through a Dye Uptake-independent Pathway
J Biol Chem . 2007 Jan 01 ; 282(4) 2386 | DOI : https://doi.org/10.1074/jbc.M610351200
P. Pelegrin
A. Surprenant
Pannexin-1 mediates large pore formation and interleukin-1β release by the ATP-gated P2X7 receptor
Embo J . 2006 Jan 01 ; 25 5071 | DOI : https://doi.org/10.1038/sj.emboj.7601378
P. Pelegrin
A. Surprenant